Brittany Scardigno, who received her M.A. in English in 2021 and teaches as adjunct professor in the English Department, and Jennifer Stolte, who received her B.A. in Education and Foreign Languages in 2018 and a Master's in Education in 2022, have each been awarded a prestigious Fulbright Award for 2022-2023.
As English Teaching Assistants (ETAs), they will inspire students studying English, facilitate mutual understanding, and promote intercultural exchanges in their host countries (South Korea and Spain) and upon their return to the United States. Scardigno will assist Korean secondary-level students practice and perfect English language skills, and Stolte will assist in a multilingual educational system that teaches Spanish, English, and the Galician native language, Galego.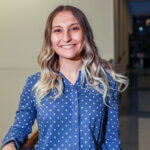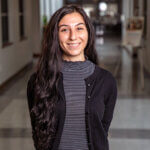 This is the first time in the history of Monmouth University that two students are granted Fulbright awards for the same cycle. Our first Fulbright Student, Victoria Cattelona, is currently completing her assignment as a 2021-2022 ETA in the Czech Republic.
The Fulbright Program is the U.S. government's flagship international educational and cultural exchange program. It is designed to forge lasting connections between the people of the United States and the people of other countries, counter misunderstandings, and help people and nations work together toward common goals. Recipients of Fulbright awards are selected in an open, merit-based competition that considers leadership potential, academic and/or professional achievement, and record of service. Since its establishment in 1946, the Fulbright Program has enabled more than 390,000 dedicated and accomplished students, scholars, artists, teachers, and professionals of all backgrounds to study, teach and conduct research, exchange ideas, and find solutions to shared international concerns. Fulbright alumni include 60 Nobel Prize laureates, 88 Pulitzer Prize recipients, and 37 who have served as a head of state or government.
The IGU congratulates Brittany and Jennifer on their extraordinary accomplishment!