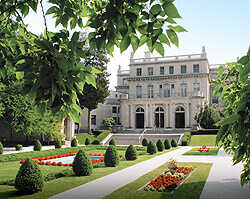 Students interested in Monmouth don't need to wait to find out their scholarship eligibility. The University can email you an estimate of your scholarship award before you even apply. Simply fill out the form below.
The cost of college is offset by the types of aid available, and the University evaluates each student and rewards those that meet the established criteria. Every first-year, transfer, and graduate applicant will automatically be considered for all scholarships or fellowships awarded by Monmouth. Those admitted have an excellent chance of receiving aid via grants or scholarships; approximately 94% of Monmouth students receive aid, which exemplifies Monmouth's commitment to providing an exceptional, affordable college education.
Have you applied to Monmouth University? If yes, please contact the Office of Admission at 800-543-9671 or 732-571-3456 about scholarship availability. If no, please begin the process by providing the following information:
Freshmen and Transfer Student Inquiry
Freshmen and Transfer students can use the link below to access our Net Price Calculator to receive a scholarship estimate.
Net Price Calculator
Graduate Student Inquiry