The Donald Warncke Award
The Faculty Association of Monmouth University (FAMCO) sponsors the Donald Warncke Award in memory of Donald Warncke, the first president of FAMCO. Any member of the university community who has distinguished himself or herself through outstanding service over the years is eligible, except current members of the FAMCO Executive Committee.
Recipients
Information Management Division (2020)
Becky Raffa (2019)
Danielle Schrama (2018)
Datta Naik (2017)
Kelly Ward and Wayne Elliott (2016)
Karen Wyant and Susan Douglass (2015)
Margaret DelGuercio and Brian Greenberg (2014)
Reenie Menditto (2013)
Richard Veit (2012)
Heather Kelly (2011)
Brian Garvey (2010)
William Mitchell (2009)
Doreen Brown and Sandy Villa (2008)
Annette Gough (2007)
Franca Mancini (2006)
Linda Silverstein (2005)
Ella Elizabeth Boyington and Koorleen Minton (2004)
Thomas Murtha (2003)
Richard Guilfoyle (2002)
Vernon Churchill (2001)
Marianne Seitz (2000)
Debbie Mellish and James Mack (1999)
Jack Bolton (1998)
Susan Kuykendall (1997)
Marilyn Parker and Gert Murphy (1996)
Sandra Epstein (1995)
Deanna Scherrer (1994)
Dale Haase and Carol Neuer (1993)
Demetrius Markov (1992)
Rose Iovino (1991)
Aldean Davis (1990)
Mary Abate (1989)
William T. Boylan (1988)
Philip C. Donohue (1986)
Jane Freed and Della Garrabant (1985)
Alfred Brown (1984)
Richard Steadman (1983)
Jack Christie and George Smith (1982)
Carol Giroud (1981)
Ann Nowicki (1980)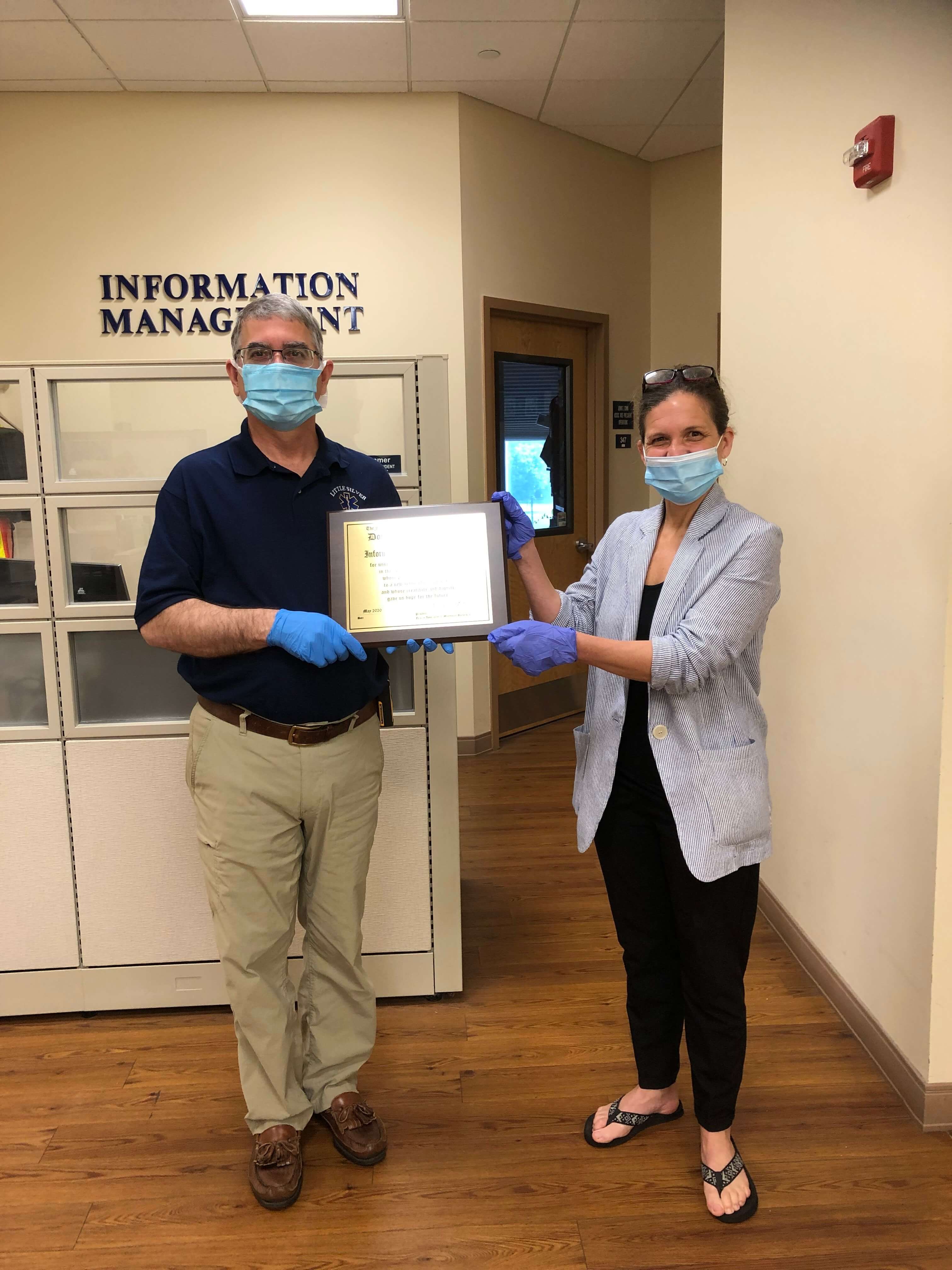 Congratulations!
Ed Christensen (left) accepts the 2020 Warncke Award on behalf of the entire Information Management Division from FAMCO President, Johanna Foster.