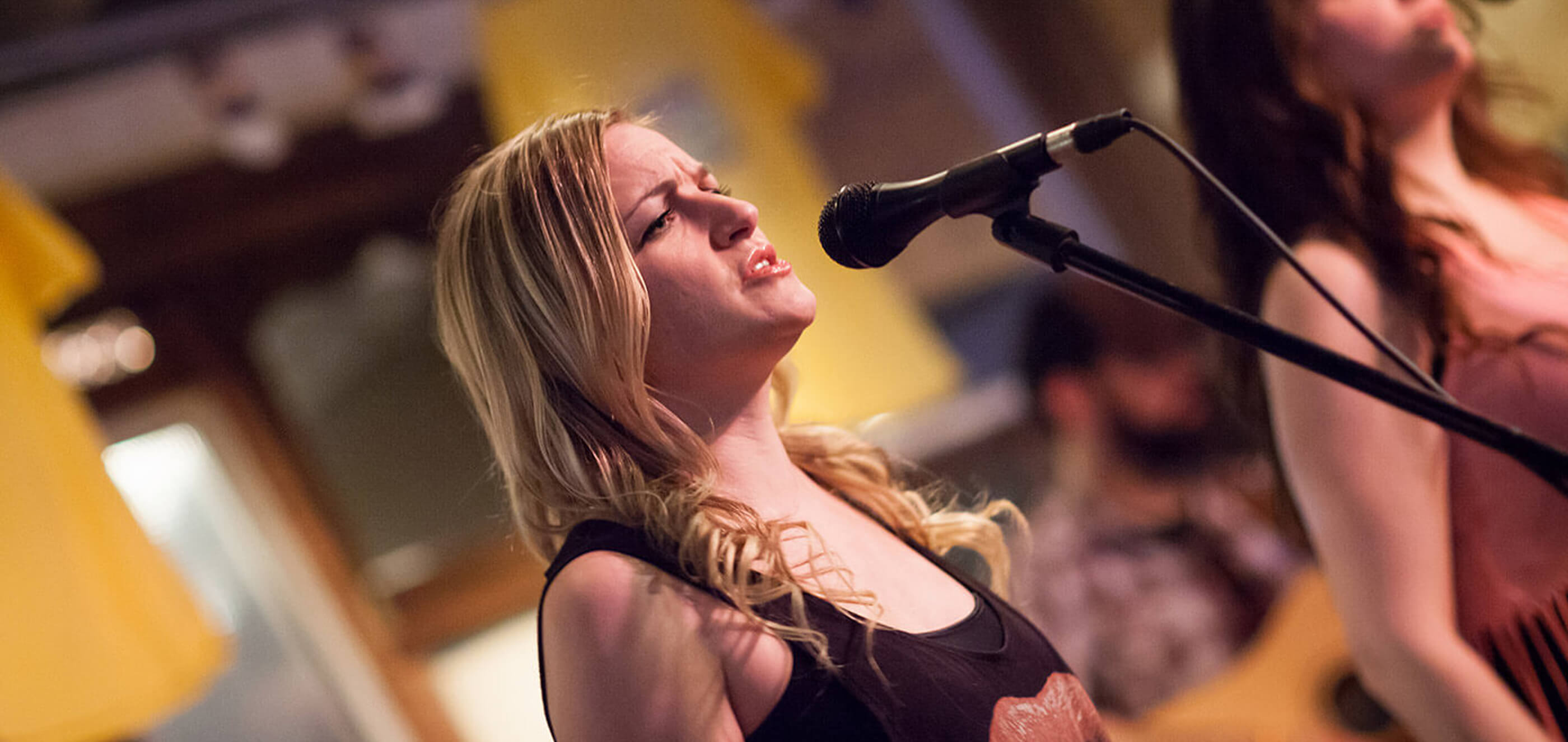 Music Industry Careers
Music Takes Students Around the World
Students prepare for life in the competitive music industry and participate in several remarkable one-of-a-kind, hands-on learning opportunities both behind the scenes and on the stage.
The Sound (and Business) of Music
From Asbury Park, NJ, to the White House and the mountains of Abruzzo, Italy, students from Monmouth University's music industry program are engaging in remarkable one-of-a-kind, hands-on, behind-the-scenes, and on-the-stage learning opportunities.
Monmouth students regularly play gigs and intern at the famous Stone Pony in Asbury Park. As part of the University's partnership with the GRAMMY Museum, students participated in a visit to the White House where they met First Lady Michelle Obama and participated in seminars and workshops on gospel music. They also have their own student-run record label and promotions company that provides hands-on opportunities in all aspects of the industry.
"Going to Washington, D.C. was unforgettable," said Ellie Newcomb, music industry major and class of 2018. "We sang with the Howard University Gospel Choir, and listening to Michelle Obama, who spoke to us both honestly and inspirationally, was amazing. This is something that I could have never experienced in a classroom. My eyes were opened to gospel music in a first-hand way."
Merging music and study abroad, a group of students traveled to Abruzzo, Italy, in 2014 by invitation to perform and work with peer Italian music students from the Italian music school Impulse Sound.
"The trip represented the essence of what we're doing here—to engage our students in hands-on learning," said Stan Green, former dean of the McMurray School of Humanities and Social Sciences, who also accompanied the students on the trip to Italy. "The students were also teachers while in Italy. It was a fantastic match."
He recalled Blue Hawk Records artist Abby Cornero teaching a 10-year-old named Francesco to play an acoustic version of the Led Zeppelin rock classic "Stairway to Heaven." "It was an experience I will never forget," Green said. They performed the song for a capacity crowd at a concert in the Piazza that evening, and throughout the region that week.
"With business and industry continuing to grow and operate on a global scale, these types of experiences are invaluable. We were able to travel the world and create relationships through the very core of our passion for music," said Mike Burke, a graduate of the music industry program and former president of Blue Hawk Records. Michael is now working at ManMade Music in New York City, who he was hired by immediately after graduating. Like Michael, graduates of the Music Industry program have gone on to work at companies like Warner Music Group, Sony, Viacom/MTV, Google, as well as start-ups and top agencies.
Additionally, there is a key partnership with Asbury Park-based Lakehouse Recording Studios, where about 20 students in the past two years have had internships and gone on to jobs in the music industry. The closing theme from the film Hunger Games: Mocking Jay, Part I, "Yellow Flicker Beat," was recorded by the Grammy-award winning artist Lorde at the Lakehouse Studios by one of the department's adjunct professors, Erik Romero, who teaches Audio Production courses at the studio for the university.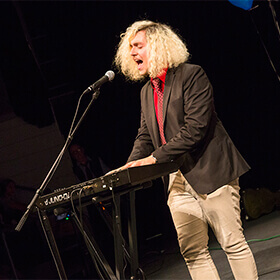 The phrase "something is happening here" is often heard around Monmouth's Woods Theatre, where the music industry program is housed, as both a nod to pop culture and a statement of fact. The music industry program is without doubt making things happen that are benefitting students as performers, producers, marketers, and more.
Monmouth is one of only a handful of institutions in the country to offer a concentration in music industry. Few students have this opportunity to study applied music along with the business methods behind music production and distribution.
Driving the energy of the program for the past two years is the chair of the Music and Theatre Arts Department, Joe Rapolla, who himself is a talented musician, music industry veteran, world-class marketer, and a passionate teacher.
But what Rapolla brings most to the students at Monmouth University is his personal charisma and confidence. He has been where students want to be, and he knows how to get them there.
"There are a new economics, a new language, and a new structure to the music business today," Rapolla said. "The merging of all those elements means students have got to be able to organize, collaborate, and execute the direct exposure of themselves or the artists they will be working with. Students come away from this program knowing they can be in control of their careers."
Rapolla said that by providing students with direct exposure to what is going on in the music industry today, they will be able to reach and engage audiences across all platforms. To that end, students at the University can become involved with the student-found and student-run Blue Hawk Records.
Blue Hawk Records is an independent record label and music organization designed to provide music and hands-on experience for the students. Its mission is to equip music industry majors, as well as others in the University, with relevant, real-world experience and familiarize them with the typical workings of different occupations in the music industry. Students are able to capitalize on this specialized experience as they function in performing and recording, talent, scouting, artist promotion and development, live music and record release, as well as artwork, packaging, sales, and marketing.
Music industry graduate, Kitty Dorsey '13, said, "I chose the music industry concentration because it had exactly what I wanted: music AND business classes in one major. I felt that having both types of classes would prepare me for any role in the music business, whether it's performance, management, producing, publishing, or marketing."
And it is that mix of music, entertainment, and business that makes the program exceptional. "As music, media, and new technologies continue to converge, we are continually updating our program to keep pace with the changes that are happening in the business," said Rapolla.
He added that it is a goal to have students "real world ready" by not only nurturing their creative talents and energy but by also ensuring their critical thinking and networking skills are honed to a sharp edge. "With the growing number of platforms and devices, it is essential to be able to leverage elements like data to improve customer contact and to efficiently spark the interest of music fans," Rapolla said.
Rapolla is a lover of music and the joys of performance, but he has one eye firmly on the developments that are making up the "new normal" of the industry, and the broadening base of opportunities they are creating.
Monmouth University Is a University Affiliate of the GRAMMY Museum
One of only 21 universities in the world to participate in this partnership, this association provides access to GRAMMY Museum content to all Monmouth students for educational purposes, curriculum resources, research programs, professional development seminars, collaborative marketing and promotions, project-based learning, and unique student internship opportunities.
Symposia on Bruce Springsteen, Frank Sinatra, and More
Symposia are held throughout the year on topics such as Bruce Springsteen and Frank Sinatra. Rock scholars and fans participate in panel discussions, enjoy live music from Monmouth University students, art exhibits, and more.
More to Explore
Students Visit the White House for "History of Gospel Music" Workshop
"This is the kind of lesson that can't be taught in a classroom," said Joe Rapolla, professor and chair of the Department of Music and Theatre Arts. "To be invited to the White House and have the First Lady help make that connection is an experience all the students will remember for the rest of their lives."
Introduction to the Music Business Ecosystem
"I re-developed an "Introduction to the Music Business Ecosystem" class for a group of wide-eyed young people with a somewhat limited, but not completely unexpected, world view of what our business is today. I wanted to present all facets of our evolving business, and highlight the skills they'd need for a variety of possible career paths." Professor James Donio, president of the Music Business Association.
Real World Experience Prepares Students for Jobs in the Industry
"The music industry program prepares students to better manage their careers as artists and prepares students to pursue business opportunities in the evolving and broadening music and entertainment industries." Joe Rapolla, MBA, Monmouth University, 1990, chair of the Department of Music and Theatre Arts.