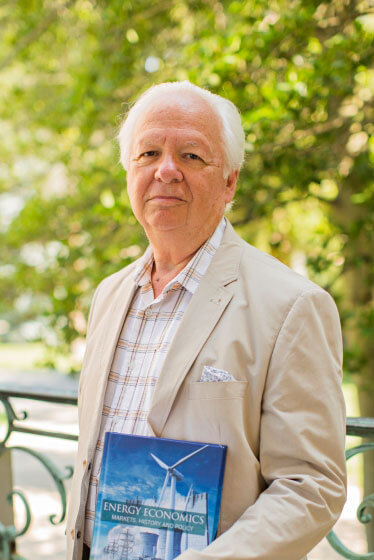 Roy L. Nersesian
---
Department

Office

Bey Hall 155

Phone

Email

View CV
Roy L. Nersesian
Professor Nersesian has a B.S. degree in Physics from Rensselaer Polytechnic Institute and an MBA degree from the Harvard Business School.
He served in the U.S. Navy for 8 years on board nuclear powered submarines and has had various positions working for corporations in the shipping field. He changed his career pattern by joining the Monmouth faculty in 1985.
Professor Nersesian has contributed research to various papers and book chapters on solar energy, wind energy, and electricity storage. His research explores how battery capacities can be used to stabilize a utility system under the umbrage when the unreliability of supply meets the uncertainty of demand.
Education
MBA, Harvard Business School
B.S., Rensselaer Polytechnic Institute
Publications
Books
Energy Economics, Published by Routledge, 2016
Energy Risk Modeling, Published by Palisade, 2013
@RISK Bank Credit, Financial Analysis RISKOptimizer for Business, and Applications Evolver Solutions for Business, Training Manuals published by Palisade Corp., 2011
Energy for the 21st Century: A Comprehensive Guide to Conventional And Alternative Sources, Second Edition, Published by M.E. Sharpe, 2010
Energy For The 21st Century, Published By M.E. Sharpe, 2007
Corporate Financial Risk Management, Published By Praeger, 2004
Tools And Trends For Operations Management, Published By Quorum Press, 2000
Courses
Frequently Taught Classes