Elizabeth Gilmartin-Keating, Ph.D.
Lecturer
Undergraduate Program Coordinator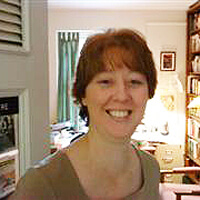 Ph.D., New York University
M.A., Seton Hall University
B.A., Georgian Court College
Office

Wilson Annex, 501

Phone

Email
Office Hours

Monday, Thursday and Friday, 11:30 a.m. – 12:30 p.m.

Courses this Semester

EN 102 College Composition II
EN 214 Irish: Home/Abroad
EN 227 Foundations of British Literature

Regularly Taught Courses

EN 101 College Composition I
EN 102 College Composition II
EN 201 Literature I
EN 202 Literature II
EN 214 Irish: Home/Abroad
EN 226 Literary Studies for English Majors
EN 227 Foundations of British Literature
EN 544 Irish Literary Studies

Research Interests

Areas of interest include nineteenth and early twentieth century Irish and British literature, Postcolonial Theory, composition, and technology.

Publications

Scholarly Articles

"Magnificent Words and Gestures: Defining the Primitive in Synge's The Aran Islands" Irish Modernism and Primitivism, edited by Claire Culleton and Maria McGarrity, Palgrave Macmillan Press, 2008.

"The Anglo-Irish Dialect: Mediating Linguistic Conflict" Victorian Literature and Culture, published by Cambridge University Press, April 2004, 1-16.

"Linguistic Unionism: Lady Gregory and John Millington Synge and the Anglo-Irish Dialect" College English Notes, published by NJ College English Association, Spring 2003, 4-6.

"Remembering the Celtic Past: Translation and History as Memory in Cuchulain of Muirthemne" in Foilsiu, published by Grian, Feb. 2001, 117-123.