BFA in Design and Animation with a Concentration in Animation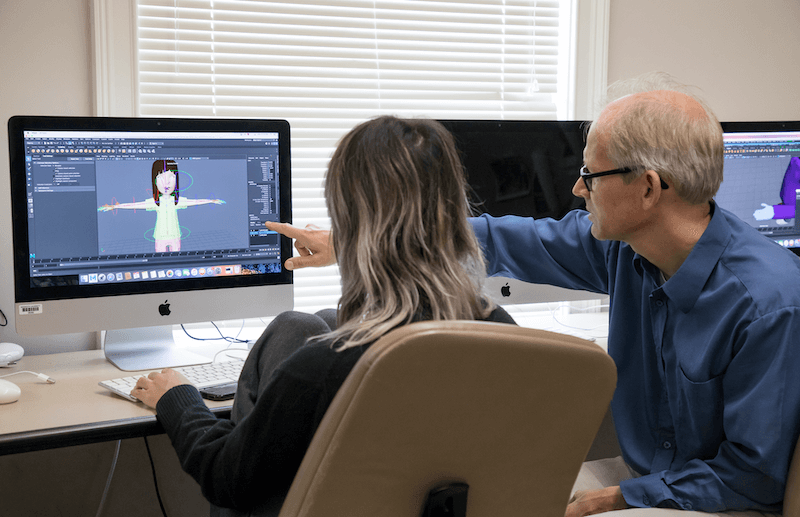 The BFA in Design and Animation with a Concentration in Animation offers a versatile curriculum that addresses the expressive interests and career concerns of our students. Animation is a cross-disciplinary field embracing digital cinematography, entertainment, graphic design, and art. Students explores all aspects of the animation process, including storyboarding, character and environment design, 3D modeling, rigging, animation, rendering, and sound. Along the way, students gain experience a wide range of techniques, including 3D Computer Animation, 2D Animation and Stop Motion. In addition, students explore interactive technology, AR and VR, experience 3D scanning and printing, and experiment with novel ways of creating animated sequences. In the program, students learn how to successfully conceive of, and manage, complex graphics and animation projects. Through group projects, students gain essential teamwork skills. Animation has many applications in fields as diverse as education, entertainment, virtual and augmented reality, advertising, scientific visualization, architecture, healthcare, and broadcast journalism. Students in the animation program emerge motivated and prepared for graduate study or professional work.
Examples of student work can be found on the Monmouth Animation Website.
Some of the careers you might consider pursuing with this degree include but are not limited to the following:
3D Modeler
Animator
Animation Director
Character Rigger, Creature Rigger
Concept Artist
Creative Director
Game/Interactive Content Designer
(including characters and environments)
Medical and Scientific Illustrator
Multimedia Artist/ Designer
New Media Artist/ Designer
Visual Effects (VFX) Artist
Creative Director
Marketable Skills
At the completion of this degree, students will be able to:
Use the most current technology and software associated with animation, game content creation, motion graphics, and graphic design.
Make 3D animations and models, 2D animations, motion graphic trailers, and use video and photography.
Create a demo reel of animation work and upload that reel to the Internet.
Create a customized Web site to showcase an animation demo reel.
Design complex graphics and animation, using independent judgment, creativity, and computer equipment.
Apply story development and editing to animation to create storyboards that show the flow of the animation and map out key scenes and characters.
Learn new technologies that include interactive art and design and time-based media, including animation and video.
Interpret sketches, data, or verbal instructions to produce creative artworks in motion.
Create schematic or perspective views to depict relationships or the assembly sequence of parts.
Learn how to use interactive technology to work in education, entertainment, advertising, and a variety of other fields.