The Rebecca Stafford Student Center is the hub of campus activity for students, faculty, staff, and visitors. It is home to a recently remodeled cafeteria, administrative offices, study lounges, and meeting space. The Hawk Shop, our on-campus convenience store, is located on the first floor for grab-and-go items.
One of our largest campus meetings spaces can be found on the second floor, Anacon Hall. This is a multipurpose space that can accommodate a variety of setups and is accessible by the elevator or stairs. Anacon Hall can be divided into section A, the smaller of two sections which overlooks our main patio, and Section B, which is a larger space equipped with floor-to-ceiling windows overlooking our MAC facility. Staging, tables, and chairs can be arranged to accommodate your specific needs.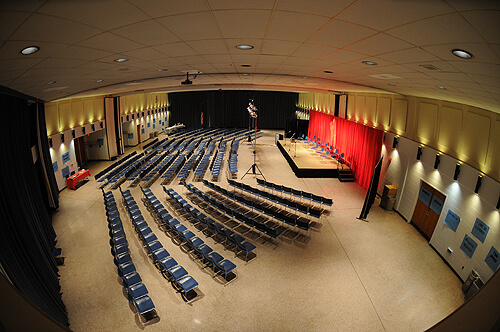 Carol Afflitto Conference Room
The Carol Afflitto Conference Room is available for meetings of up to 40 people. The room is set up in a square conference style with an additional square located in the center of the room. It is equipped with a built-in screen and white board. The room is located on the third floor and is accessible by elevator and stairs.
Additional Meeting Space
There are three meeting rooms, located on the second floor, that can each accommodate 25 people. The rooms are equipped with conference-style tables and chairs. Vertical blinds on the glass walls provide privacy during your meeting. Each room is equipped with a built-in screen and TV/VCR.