Credit Balances can be generated on students' accounts due to over payments, financial aid disbursements, changes to tuition and/or room & board charges, or any combination of these.  Bursar's Office will issue a refund of these credit balances.
Direct deposit is the most efficient means for students to receive their refunds.  To set up Direct Deposit please follow these steps:
Log into the My MU Portal (my.monmouth.edu)
Click on I Need To then look for the box towards the bottom saying Access my Student Bill & Payment Center.
Your Account Summary Screen will automatically pop up.
If you have not selected your refund disbursement preference, you will see a pop up stating, "You have not set your refund delivery method:"

You can then click on the box and select direct deposit and enter your bank account information.
If you do not see this pop up, please scroll to the My Profile Setup section to the right of the main screen and you will see an icon saying Electronic Refunds:
Please click on this icon and the pop up box will appear and you can proceed to select direct deposit option and enter your bank information.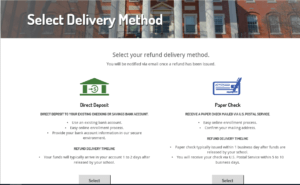 Please note that you can always access the Electronic Refunds icon in My Profile Setup to review your refund preference and the details of the direct deposit bank account information saved.
If you have additional questions please contact the Bursar's Office at bursar@monmouth.edu or at (732) 571-3454. Thank you.