Student Advising Responsibilities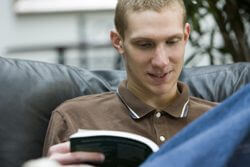 What responsibilities do you have in the advising process? You will get the most out of our advising program by being an active participant and by doing the following:
Assume primary responsibility for their academic progress. Students are responsible for complying with their major curriculum and sequence charts, periodically checking their degree audit and utilizing Monmouth University resources and services to ensure progress toward degree completion.
Know your advisor by name and in person, the location of his/her office, and his/her available office hours.
Take the initiative of contacting and following up with advisors.
Have adequate knowledge of the University, graduation requirements, and department/major/program specific requirements; academic regulations; and calendar deadlines specified in the MU Calendar, schedule of classes, and departmental publications.
Know how to navigate the student information system, the advising Web site, and all other MU advising resources and tools.
Consult with your advisor whenever appropriate and in a timely manner so that early intervention can be provided.
Be prepared for all scheduled advising sessions. (Students are required to take their educational plan and degree audit to their scheduled advising sessions without which they may not be advised.)
Make academic decisions based upon the information obtained or recommendations offered; academic advisors will not make decisions for students.
Act upon academic decisions in a timely manner.
Maintain personal records of academic progress, including documentation of approved exceptions to stated program requirements.
Seek additional or supplemental advice and assistance from other University personnel or services at the Center for Student Success, Counseling and Psychological Services, Career Development as needed or recommended.
Discuss with your advisor factors such as employment, family obligations, commuting distance, and other circumstances that might influence selection of classes, registration processes, and other academic planning.