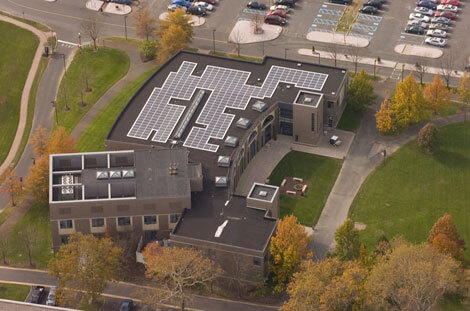 To cultivate renewable energy, Monmouth employs solar paneling on many of its buildings, as seen above on Bey Hall. The solar power system produces fewer air pollutants, making it better for the environment and more economical for the University.
Beyond conserving energy and minimizing our reliance on natural resources, Monmouth University has made great strides in cultivating renewable energy. In 2005, the University–with partial funding by a grant from the New Jersey Board of Public Utilities and the Clean Energy Program–installed the largest solar power system east of the Mississippi River on four buildings: Bey Hall, Boylan Gymnasium, the Rebecca Stafford Student Center, and the Facilities Management Building. Recent campus construction has allowed for the addition of 46,000 square feet of solar paneling on seven additional buildings (Edison Science Building, Howard Hall, the Multipurpose Activity Center, Elmwood Hall, Magill Commons, McAllan Hall, and the Plangere Center), doubling the previous amount and securing us as a leader in solar energy usage both regionally and nationally.
To date, the solar energy generated by the university is equal to 12,055 60-watt bulbs used 8 hours per day over the span of a year. Our solar installations have offset the use of gasoline by 171,079 gallons and reduced carbon dioxide emissions by more than 1,516 tons—the equivalent of planting 38,017 trees.
The majority of academic buildings on campus are fitted for solar paneling, ensuring better efficiency and effectiveness as Monmouth continues its green initiative.