Honoring the Legacy of Walter S. McAfee '85HN
Celebrating the African American Scientist who Helped Launch the Space Age
Dr. Walter S. McAfee '85HN was a mathematical physicist who worked for many decades at Fort Monmouth in the United States Army Communications-Electronics Command (CECOM), and lectured in atomic and nuclear physics and solid state electronics at Monmouth College from 1958 to 1975.
He also served on the Curriculum Advisory Council of the Electronics Engineering Department at Monmouth and was recognized with an honorary doctorate of science in 1985.
African American Pioneer
Dr. McAfee was a distinguished African American scientist, and a pioneer. In an era when even programs stemming from the New Deal of the 1930s were racially segregated and blacks and whites rarely worked alongside each other, McAfee completed his Master of Science in theoretical physics at Ohio State University in 1937. He was one of the very few African Americans earning advanced degrees in physics at the time.
McAfee gained recognition with Project Diana which bounced an electronic echo from the moon's surface back to an antenna at the Evans Signal Laboratory in Wall Township, New Jersey. His theoretical calculations determined the feasibility of this original radar "moon bounce." On January 10, 1946, the experiment was conducted successfully, an achievement that many regard as the beginning of the Space Age.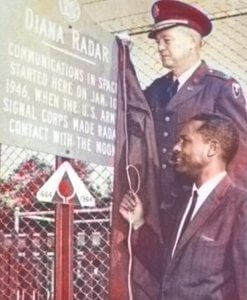 McAfee went on to earn his Ph.D. from Cornell University in 1949 and during his career, wrote studies on radar coverage patterns including diffraction around the curved surface of the Earth, and the discovery that high-altitude nuclear explosions can cause communications blackouts.
In 1956 President Dwight D. Eisenhower presented him with one of the first Secretary of the Army Research and Study Fellowships. The fellowship enabled McAfee to spend two years studying radio astronomy at Harvard University.
His calculations earned him nationwide recognition and numerous awards, including the first U.S. Army Research and Development Achievement Award in 1961. A decade later, he was the first African American employee to be promoted to GS-16, a "super-grade" civilian position. McAfee's rank is now regarded as the predecessor of today's federal Senior Executive Service.
McAfee was inducted into the Science Hall of Fame in 1982 at his alma mater, Wiley College, Marshall, Texas. Monmouth College (now Monmouth University) recognized his scientific accomplishments, service to country, and commitment to academic excellence with an honorary doctorate in 1985. The same year McAfee received the Steven's Award at Steven's Institute of Technology.
After his death in 1995, Fort Monmouth named the McAfee Center on its grounds to house the Information and Intelligence Warfare Electronic Directorate. With the closing of the fort and the relocation of the CECOM to Maryland, McAfee's legacy was transferred out of state with the naming of a research building at Aberdeen Proving Ground in 2011.
In 2015 he was the first African American to be inducted into the Army Materiel Command's Hall of Fame.
Advancing the McAfee Legacy
As McAfee's academic home for nearly two decades, Monmouth University seeks partners to honor his legacy in service of our mission to educate and prepare students to realize their potential as leaders and to become engaged citizens in a diverse and increasingly interdependent world.
McAfee was the second oldest of nine children, all of whom received higher-education degrees in either math or science, according to the Communications-Electronics Command's historical office. McAfee and one of his sisters were the only two McAfee children who were not high school teachers.
The Dr. Walter S. McAfee '85HN Endowed Scholarship in Science honors his memory by providing opportunities for developing the next generation of diverse scientists in New Jersey, where his world-changing discoveries took place.
This endowed scholarship named in memory of Dr. McAfee will support economically disadvantaged students to attend Monmouth University in pursuit of an education in any of the sciences, while celebrating a distinguished faculty member who broke racial and scientific boundaries.
While additional opportunities to name physical locations on campus in honor of Dr. McAfee are available, our first goal is to establish a permanently endowed scholarship.
---
The Need for Scholarship Support
More than 40 percent of Monmouth University students are the first in their families to attend college, and more than 30 percent of undergraduates qualify for need-based federally funded aid, and depend upon state funding in the form of Tuition Assistance Grants (TAG) and the New Jersey Educational Opportunity Fund (EOF).
Endowed scholarships are a source of permanently dedicated funds. A distinguished endowed scholarship can be created with a $50,000 gift, and an endowed scholarship can be established with a gift of $25,000, each of which can be funded over five years.
To make a gift or pledge of support to the McAfee Legacy at Monmouth University, please visit our secure giving page or contact Lucille Flynn, Associate Vice President, by email at lflynn@monmouth.edu or by telephone at (732) 571-3502.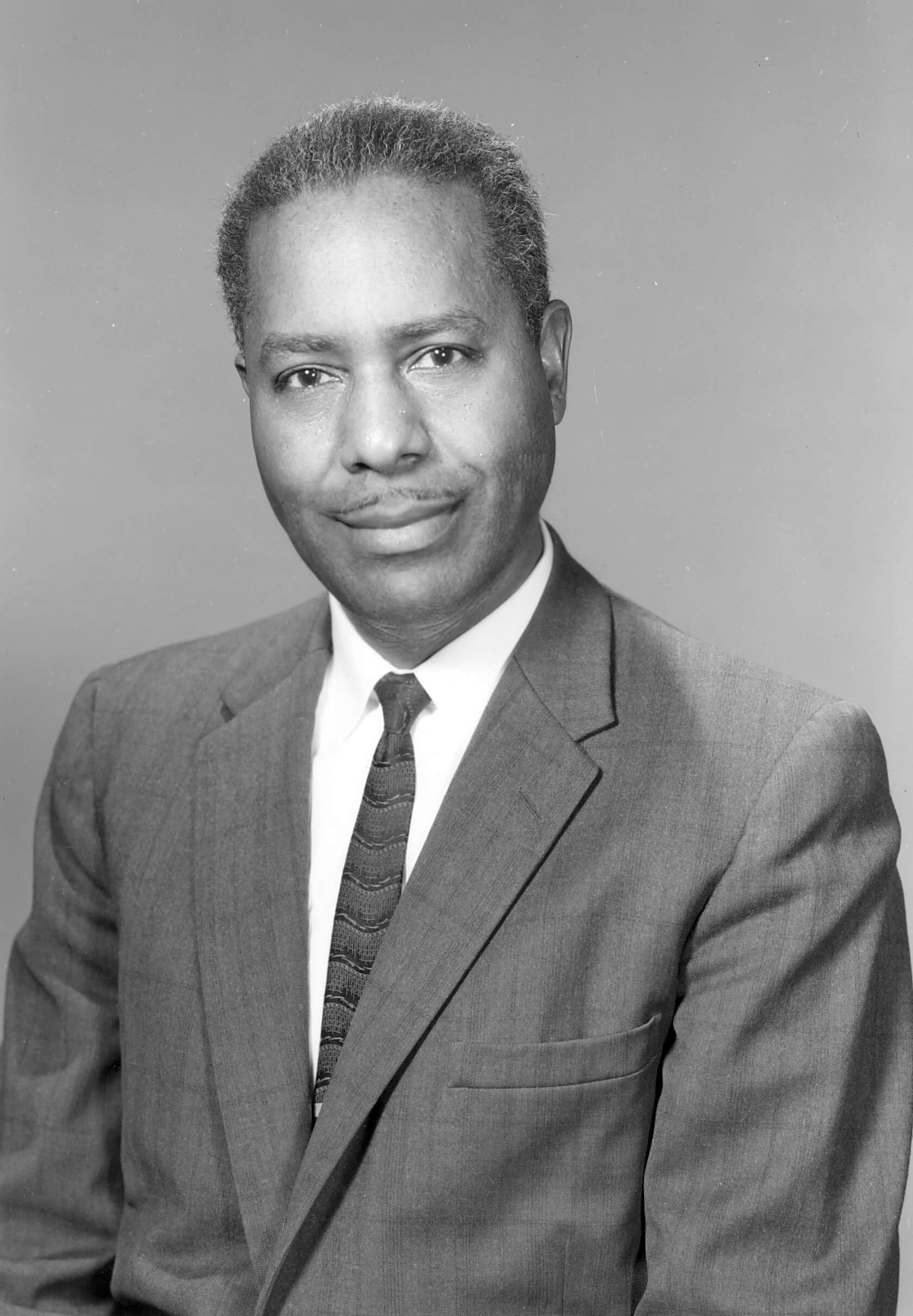 Documenting The McAfee Legacy through Oral Histories
Monmouth University is collecting oral histories related to Dr. Walter S. McAfee '85HN to uncover and preserve personal stories of his impact as an instructor, researcher, and pioneer. This is part of the Monmouth Memories Oral History Program, a collaboration of the Department of History and Anthropology and Monmouth University Library. For more information or to participate in this oral history initiative, please complete the following form. Interviews are directed by Specialist Professor of Public History Melissa Ziobro, who also serves as president of Oral History in the Mid-Atlantic Region and trustee of InfoAge – Science History Learning Center and Museum, and who was the last command historian at Fort Monmouth. You may choose to be interviewed by Professor Ziobro, or a trained student. You can also choose to archive your interviews with the U.S. Army Communications-Electronics Command Archive in Aberdeen Proving Ground, Maryland, in addition to at the Monmouth University Library.
"*" indicates required fields