UCI Releases Guide to Beach Access in New Jersey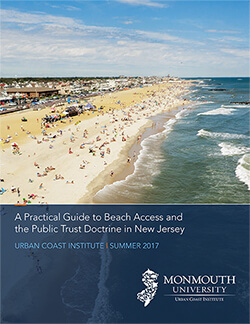 Just in time for beach season, the UCI is pleased to release A Practical Guide to Beach Access and the Public Trust Doctrine in New Jersey.
The Guide is intended for all audiences, including citizens and visitors to the Jersey Shore as well as the municipalities that serve as their hosts. It clarifies the rights established through the Public Trust Doctrine — the legal principle that guides beach access law — by explaining its basis and origins, reviewing 10 of the most influential court decisions, and providing a series of FAQs on real world public access situations.
Readers can access the Guide online with the links below:
We hope you enjoy the Guide and look forward to another great summer in New Jersey. See you at the beach!
UCI to Assist in Researching Sediment Contamination in N.Y. Harbor Channels
The Monmouth University Urban Coast Institute (UCI) has received a $4 million grant from the New Jersey Department of Transportation to work with the Hudson River Foundation and other partners to study sediment contamination levels in New York/New Jersey Harbor.
The research will focus on navigation channels that are periodically dredged by the U.S. Army Corps of Engineers to ensure they're deep enough for container ships, tankers and other large vessels traveling to and from the Port of New York and New Jersey. Ultimately, the three-year project will help determine whether dredged materials in these areas are clean enough to deposit at sea, or when they will be in light of remediation efforts. Arrangements must be made to move sediments that do not meet ocean disposal standards to suitable sites on land.
The project builds upon the work of a 2002 Contamination Assessment and Reduction Project (CARP) that modeled the rates in which remediation efforts and natural processes would improve the quality of sediments in these areas. This latest project, known as CARP II, would revisit the accuracy of the models based on new and recent sampling and consider how unforeseen factors such as Hurricanes Sandy and Irene may have impacted contamination levels. CARP II will produce new 15- and 25-year projections based on the findings.
"This project will provide the U.S. Army Corps of Engineers and other harbor stakeholders the scientific information they need to plan future dredge projects in a manner that fully considers the health of marine environments," said UCI Director Tony MacDonald, the project's administrator. "With the Panama Canal expansion complete and the Bayonne Bridge being raised, New York and New Jersey can expect to see far larger vessels at their marine terminals. The maintenance of our navigation channels will be more important than ever to safely accommodate these megaships and ensure our ports remain economically competitive."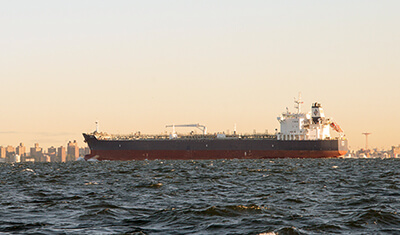 The UCI and the Hudson River Foundation will serve as co-principal investigators on the project. The team will also include researchers from Manhattan College, Rutgers University, the University of Rhode Island and two private consultants, Simon Litten and HDR, Inc.
"This new research project provides a unique opportunity to develop scientifically valid management tools, including the possibility of a new screening technique to drastically reduce the costs of determining the level of contamination in sediments slated to be dredged," said Hudson River Foundation Science Director Dennis Suszkowski.
UCI Marine Scientist Jim Nickels will lead the field sampling activities. Monmouth University student researchers will participate in these efforts under Nickels' guidance.
"Through CARP II, students will have excellent opportunities to conduct scientific research outside of the classroom," Nickels said. "Their work will help gauge the health of some of the busiest marine corridors in the country."
Sampling is expected to take place at points in the Arthur Kill, East River, Flushing Bay, Hackensack River, Hudson River, Lower and Upper New York Bay, Newark Bay, Passaic River, Raritan Bay, Raritan River, Red Hook Channel and Sandy Hook Bay.
Herrington Joins Urban Coast Institute as Associate Director
Dr. Thomas Herrington has been appointed as the first associate director of the UCI. The hire reflects the UCI's continued growth and Monmouth University's commitment as the "Coastal University" to expand its capacity as a leading research and policy center.
Herrington has extensive experience working at the state, regional and national level and is one of New Jersey's leading experts on coastal processes, beach management and ocean engineering. He will work closely with UCI staff, Monmouth faculty, students and other partners to help find solutions to the challenges facing coastal communities, sustainable coastal economies and health ocean ecosystems.
Prior to joining the UCI, Herrington served as the director of the ocean engineering graduate program at the Stevens Institute of Technology from 2007-17 and the director of the New Jersey Coastal Protection Technical Assistance Service from 2002-17. He has over 25 years of experience in coastal sustainability and hazard mitigation research, including the analysis of storm surge and wave impacts on coastal communities. He is well acquainted with the UCI, having recently served as a member of its Advisory Committee.
"Tom is uniquely positioned to make the UCI a stronger organization and have an immediate impact on our ability to work with coastal communities on a wider variety of issues. We are thrilled to have him aboard," said UCI Director Tony MacDonald. "This year's fifth anniversary of Superstorm Sandy reminds us not only of the progress we have made, but the many steps that are still necessary to prepare for future major storms and sea level rise. Monmouth University and the Jersey Shore are fortunate to have one of the East Coast's leading voices on beaches and coastal resilience here to help lead the way."
"The beach has always been a major part of my life, going back to my days growing up in Ocean City, New Jersey," said Herrington, now a resident of Monroe. "I'm excited for the opportunity to work at the shore and contribute to an organization that is poised to make transformational impact in coastal science and policy."
Herrington has authored or coauthored over 100 journal, outreach and technical publications in the field of coastal and ocean engineering, including the New Jersey Sea Grant Consortium's Manual for Coastal Hazard Mitigation, and is a contributing author to "Blue Dunes: Climate Change by Design." He is a contributing scientist to the U.S. Army Corps of Engineers Post-Sandy North Atlantic Coast Comprehensive Study and the New Jersey State Hazard Mitigation Plan.
He serves on the FEMA Region II Coastal Outreach Advisory Team and is on the Board of Directors of the American Shore & Beach Preservation Association and the Jersey Shore Partnership. He holds a bachelor's degree in Civil Engineering as well as master's and doctorate in Ocean Engineering from the Stevens Institute of Technology.
UCI Awards Grants for 11 Student-Faculty Research Projects
From mapping the bottoms of Jersey Shore lakes to a video game based on Superstorm Sandy, this summer's round of UCI-funded research projects is among the most diverse to date.
Eleven projects were recently selected for support through the UCI's Heidi Lynn Sculthorpe Summer Research Program and Marine Science & Policy Initiative. The work will be completed by about two dozen Monmouth University students, faculty and staff members representing a wide range of academic disciplines.
The Marine Science & Policy Initiative and Heidi Lynn Sculthorpe Summer Research Program emphasize hands-on research projects that provide real world experience for students while helping make a difference in the communities where they take place. The programs allow students to design and propose their own research ideas and see them through with guidance from Monmouth University faculty mentors. See below for descriptions of this summer's projects.
Heidi Lynn Sculthorpe Summer Research Grants
Lake Como Bathymetry and Flood Mapping: The bottom of Lake Como will be mapped to help build a better understanding of coastal lakes' storage capacity for flood planning purposes. The research will be published in the journal Middle States Geographer.
Students: Thomas Candiloro
Faculty/Staff: Dr. Geoffrey Fouad, Department of History & Anthropology
Selective Feeding Habits of Atlantic Sturgeon: The team will research the feeding habits of endangered Atlantic sturgeon in coastal waters near the Rockaways in New York City, a known hot spot for the fish.
Students: Marissa DeTorre
Faculty/Staff: Dr. Keith Dunton, Department of Biology
Superstorm Sandy Interactive Video Game: A team of two undergraduate computer science and software engineering students and eight local high school students will engage emergency responders, the coastal community, professional developers and others to design a game that simulates search and rescue missions in the aftermath of a national disaster.
Students: Luke Tomkus and Michael Anatasio
Faculty/Staff: Professor Jodee Vallone, Department of Computer Science & Software Engineering
The Marine Science & Policy Initiative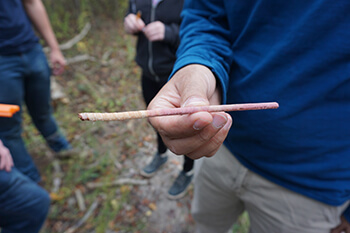 Assessing Climate Impacts on Maritime Tree Species Using Dendrochronology: Continuing research begun in the fall of 2016, the team will collect tree core samples from Jersey Shore maritime forests and analyze their ring patterns, which can serve as indicators of rising atmospheric CO2, annual climate and major storm events.
Students: Jeff Dudek, Kelsey Connelly and Matthew Francis
Faculty/Staff: Dr. Pedram Daneshgar, Department of Biology
Assessing Coastal Lakes in Monmouth County: Participants will conduct water quality monitoring, sediment sampling, hydrographic surveys (depth and debris mapping) and other research at sites including Lake Como, Lake Takanassee, Franklin Lake, Wesley Lake and Sunset Lake.
Students: Erin Conlon and Daniel Gerdon
Faculty/Staff: UCI Marine Scientist Jim Nickels
Assessment and Inventory of New Jersey Coastal Fisheries: The team will analyze New Jersey Department of Environmental Protection trawl survey data for elasmobranch species (skates, rays, sharks, etc.) for the development of GIS map products and conduct sampling in coastal waters to inventory species in the area.
Students: Gina Badlowski and Jarius Bradley
Faculty/Staff: Dr. Keith Dunton, Department of Biology
Evaluating Essential Finfish Habitat and Movements within the Leased New York Wind Energy Area (Faculty Enrichment Grant): Fish species in the federally designated offshore wind energy lease area outside of Lower New York Bay will be tagged to gather information on both recreational and commercial species of concern in the area.
Faculty/Staff: Dr. Keith Dunton, Department of Biology
Exploring the Factors that Affect Juvenile Tree Growth and Survival in a Maritime Forest (Faculty Enrichment Grant): A series of greenhouse and field experiments will provide insight into how juvenile trees respond to environmental stresses that occur in coastal ecosystems.
Faculty/Staff: Dr. Pedram Daneshgar, Department of Biology
Hydrology Research Publication (Faculty Mini-Grant): A faculty mini-grant will fund the publication of research on a GIS tool being developed to predict stream flows in watersheds in the journal Hydrology and Earth System Sciences.
Faculty/Staff: Dr. Geoffrey Fouad, Department of History & Anthropology
Locally Based Mathematical Modeling (Faculty Enrichment Grant): The grant will facilitate the development of modules for MA 115 (Precalculus Modelling in the Biological Sciences) that apply modeling techniques to research questions related to local water bodies.
Faculty/Staff: Dr. Joseph Coyle, Department of Mathematics
Monmouth/Ocean Coastal Community Database: Two graduate assistantships will be funded to create a database that includes a wealth of information on the economy, health, history, education, environment and more in Jersey Shore communities.
Students: Christopher McKenna and Zahra Yaramadi
Faculty/Staff: Dr. Susan Forquer Gupta, Department of Marketing & International Business
These opportunities have been made possible through the generous support of Santander Bank and many other corporate and private donors. If you would like to make a tax-deductible gift to the Urban Coast Institute, please use our Give a Gift Now contribution form.
UCI in the Classroom: Scouting Offshore Wind Areas
The winds of change have arrived in the Mid-Atlantic, and Monmouth University School of Science Assistant Professor Keith Dunton is teaching students to analyze them with a cutting-edge technology managed by the UCI and partners with support from the Gordon and Betty Moore Foundation.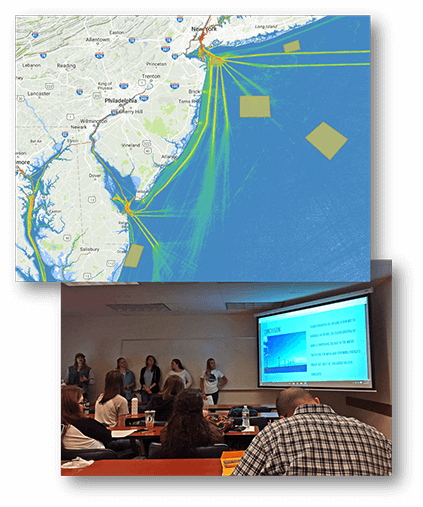 The pending introduction of offshore wind farms in areas from New York through Virginia has heightened the importance of regional ocean planning as a means for mitigating potential conflicts between turbines, ecosystems and traditional human uses like fishing and shipping. With a library of over 3,000 interactive maps depicting human activities and natural processes taking place at sea, the free and publicly accessible Mid-Atlantic Ocean Data Portal (portal.midatlanticocean.org) has emerged as the region's most effective tool for spotting such problems before they happen.
Dunton challenged his BIO 442 (Marine Resources & Conservation) students to think like a wind developer and evaluate the feasibility of building turbines in five hypothetical areas off the coasts of Maryland, New Jersey and New York. The project kicked off in March with a Portal tutorial by the UCI's Karl Vilacoba, who serves as the Portal team's communications lead. Over the next few weeks, student teams pored over the site's data and cataloged the economic, environmental and safety ramifications for building turbines at the various sites. On April 24, the teams presented their conclusions, including a data-supported recommendation for which site appeared to be the best-suited for wind energy.
"This project provided a good illustration of how decisions by both businesses and public sector permitting agencies will be made in the future," Dunton said. "Even with minimal experience using the Portal, the class found it easy to identify hundreds of conflicts based on a trove of scientific data."
The UCI, Rutgers University's Edward J. Bloustein School of Planning and Public Policy and the Center for Remote Sensing and Spatial Analysis, The Nature Conservancy and EcoTrust are developing the Portal under the direction of the Mid-Atlantic Regional Council on the Ocean, a partnership of the governors of Delaware, Maryland, New Jersey, New York and Virginia. Last year, the Portal served as a key information source for a historic first-ever Mid-Atlantic Regional Ocean Action Plan produced by a consortium of representatives from the states, federal agencies, tribal entities and the Mid-Atlantic Fishery Management Council.
Last year the UCI received a $1.2 million grant from the Gordon and Betty Moore Foundation for the continued development of the Portal. The grant is now making new educational opportunities possible at Monmouth University.
In the fall, the University will offer GIS Applications in Marine Science & Policy (GO 298), a new course that demonstrates how to use the Portal to make a wide range of ocean management decisions. The course is available to Marine and Environmental Biology and Policy majors and those with minors in Geographic Information Systems (GIS), Sustainability or related subjects.
June Meeting to Address Next Steps for Regional Ocean Plan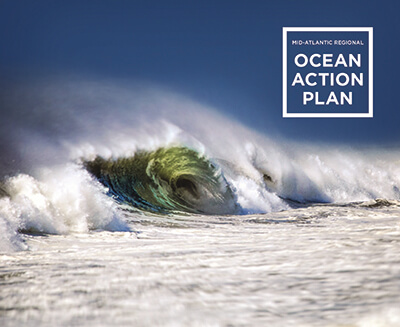 The Mid-Atlantic Regional Planning Body (RPB) will hold a public meeting June 20 that covers recent progress and next steps for implementing the Mid-Atlantic Regional Ocean Action Plan.
Adopted in December, the Plan aims to maintain a vibrant marine ecosystem and sustainable ocean uses in coastal and offshore areas from New York through Virginia. The first-of-its-kind document was developed by the RPB, a consortium of states, federal agencies, tribal entities and the Mid-Atlantic Fishery Management Council. The UCI worked closely with the RPB on the Plan's creation and implementation, including by managing the Mid-Atlantic Ocean Data Portal, a key information resource for the Plan.
The meeting is scheduled from 9 a.m. to 5:15 p.m at the NOAA Science Center, Silver Spring Metro Center Building 5, in Silver Spring, Maryland. View and download a draft agenda.
The RPB was honored May 11 with the prestigious Peter Benchley Ocean Award for its work developing the Plan. The group was recognized in the Excellence in Solutions category along with the Rhode Island Ocean Special Area Management Planning Team and the Northeast Regional Planning Body. The organizations were cited for producing "landmark ocean plans that will benefit all users and provide excellent models for other states and regions to engage in smart ocean planning."
The announcement summarizing the honorees also recognized the role of ocean data portals in improving ocean management decisions.
The UCI congratulates the RPB and looks forward to working together in the future.
Photos & Video: The UCI Spring Film Series
The UCI extends its thanks to the hundreds of attendees, many partner organizations and Rockefeller University Professor Jesse Ausubel for making our Spring Film Series a success! Enjoy our photos and videos from the three events below.
A Plastic Ocean, co-hosted March 30 with Clean Ocean Action:
• Photos from "A Plastic Ocean"
Ocean Frontiers III, co-hosted April 6 with Green Fire Productions and several other partners:
• Panel Video from "Ocean Frontiers III"
• Photos from "Ocean Frontiers III"
Les Saisons (Seasons), co-hosted April 13 with Rockefeller University Professor Jesse Ausubel:
• Photos from "Les Saisons (Seasons)"
Have an idea for a future UCI film event? Let us know at uci@monmouth.edu.
Take a Photo Tour of the New UCI Offices
The UCI is settling nicely into its new office suite on the first floor of the Monmouth University School of Science's beautiful new atrium addition. The atrium opened this year as part of a top-to-bottom renovation of the School of Science, which is now well underway. The project was funded in part by a $1 million set aside from the successful 2014 Marine Science & Policy Initiative Challenge Grant campaign. Thank you to the many generous donors who made this possible. Take a look at the photo tour of our office, and please stop in and say hello!
Journal Publishes Environmental DNA Research
A new study authored by Rockefeller University for the journal PLOS ONE reports on the use of DNA testing in New York waters to record a spring fish migration for the first time. The Monmouth University School of Science and Urban Coast Institute are partnering with RU on a broad research project that is collecting data on the presence of marine life in New York-New Jersey coastal water bodies through environmental DNA (eDNA) sampling.
Read an article in the (U.K.) Daily Mail quoting UCI Director Tony MacDonald about the research or a press release summarizing the study.