Celebrating the Research, Creative, and Service Accomplishments of MU Students
Wednesday April 21, 2021
Academic Citizens
Students using research and scholarship explore problems and issues in search for a solution. Projects cover a wide range of topics including crime, healthcare burnout, career preparedness for college students, security, creative expression, culture, communication, social justice, eating disorders, social media, mental illness, cost analysis, and accounting solutions.

Live HawkTalk Presentations
Public History in Practice Live Event
1:15 – 2:00 p.m.
Moderated by: Melissa Ziobro, Specialist Professor, Department of History and Anthropology
Matthew Berger, Senior, History
Gillian Demetriou, Senior, History
Rowan Elrais, Junior, History/Elementary Education
Samantha Walton, Sophomore, English
Diverse Student Performances Exploring Culture, Resistance, and Social Justice
4:30 – 5:30 p.m.
Manny Christian, Senior, Communication
Penelope Elliott, Senior, Communication
Daviyon Johnson, Sophomore, Communication
Jalen Jones, Junior, Communication
A'Liah Moore, Junior, Communication
Eben Owusu, Senior, Communication
Janelle Ramirez, Sophomore, Communication
Brian S. Salinas, Sophomore, Communication
---
Asynchronous Video Presentations
Rook Coffee's Cost Behavior
Joey Bartusek, Junior, Accounting
Allen Gonsalves, Senior, Accounting
Anthony Granite, Senior, Accounting
Daniella Messercola, Junior, Accounting
Kostandinos Tsoukalis, Junior, Accounting
The Detrimental Effects Body Image and Beauty Standards Has on Young Athletes
Alexis Gerbasio, Junior, Marketing
Outsourced Portal for Accountants
Tyler Gordon, Senior, Accounting
Music, the Voice, and Emotions
Victor Montanaro, Senior, Psychology
In Nurses Who Experience Higher Rates of Burnout Does the Implementation of Self-care Strategies and Stress Management Interventions, As Opposed to Seeking No Treatment Options, Reduce Nursing Staff Turnover Rates?
Mary Pomponio, Junior, Nursing
IDM (Interactive Digital Media) Research Lab Student Projects 2020-2021
Lauren Abreu, Senior, Communication
Josh Miller, Senior, Communication
Shimriya Richard, Graduate Student, Communication
Darci Santella, Graduate Student, Communication/Interactive Digital Media
Skylar Smith, Junior, Communication
Abbey Vergata, Senior, Communication
Using Rhetoric to Connect with Digital, Public Audiences
EN 102.H2: College Composition II
---
Asynchronous Poster Presentations
The Cost Behavior of Amazon
Patrick Anderson, Senior, Accounting
Nicholas Gagliardi, Senior, Accounting
Dylan Grafton, Junior, Accounting
Andrew Laspina, Junior, Accounting
Thomas Waring, Junior, Accounting
Commvault Cost Behavior
Jacqueline Barton, Senior, Accounting
Breanna Harkin, Senior, Accounting
Ryan Mohabeer, Junior Accounting
Farangiz Ortikova Senior, Accounting
Joseph Pascotto, Sophomore, Accounting
Geographic Cluster Analysis of Violent Crimes in Detroit, Michigan
Alyssa Dowd, Junior, Homeland Security
Uber Technologies: Cost Analyses
Michael Dimino, Junior, Accounting
Maggie Lippincott, Sophomore, Accounting
Kirsten Taylor, Junior, Accounting
Derek Vander Woude, Junior, Accounting
Medify Air: Cost Drivers of a Local Company
Dylan Fallis, Senior, Accounting
Shaun Rauschenberger, Junior, Accounting
Justen R. Samiljan, Junior, Accounting
Dana Terman, Junior, Accounting
Madeline C. Weber, Senior, Accounting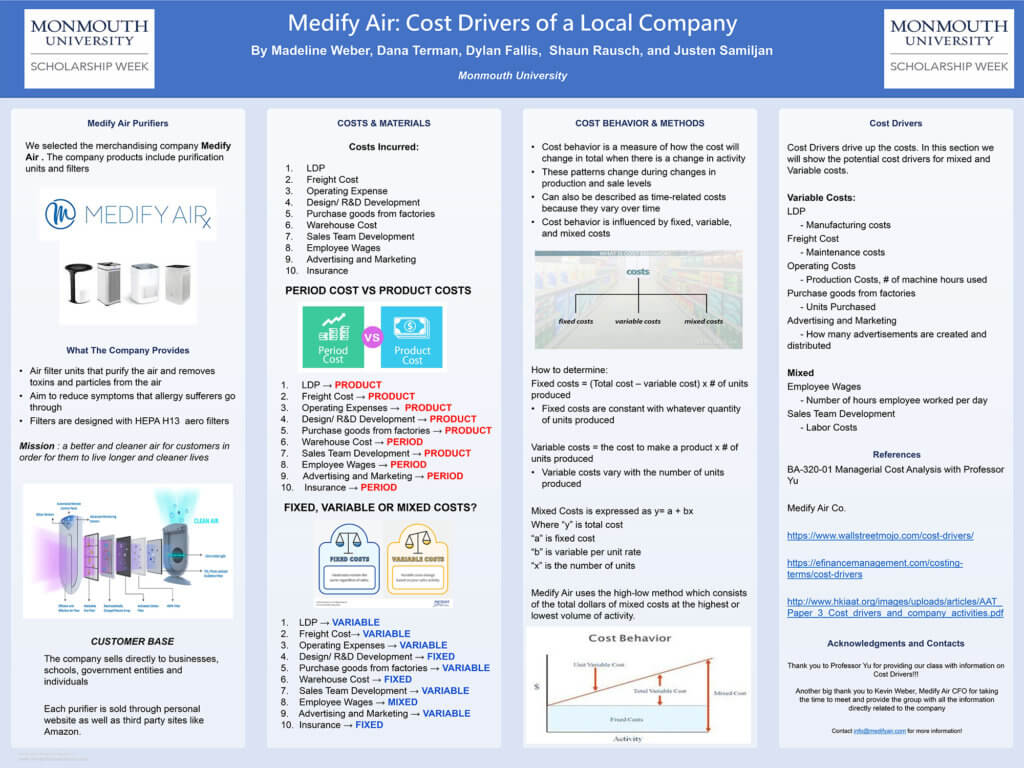 Geographic Risk Assessment of Terrorist Attacks in the United States (US)
Robert Merten, Senior, Homeland Security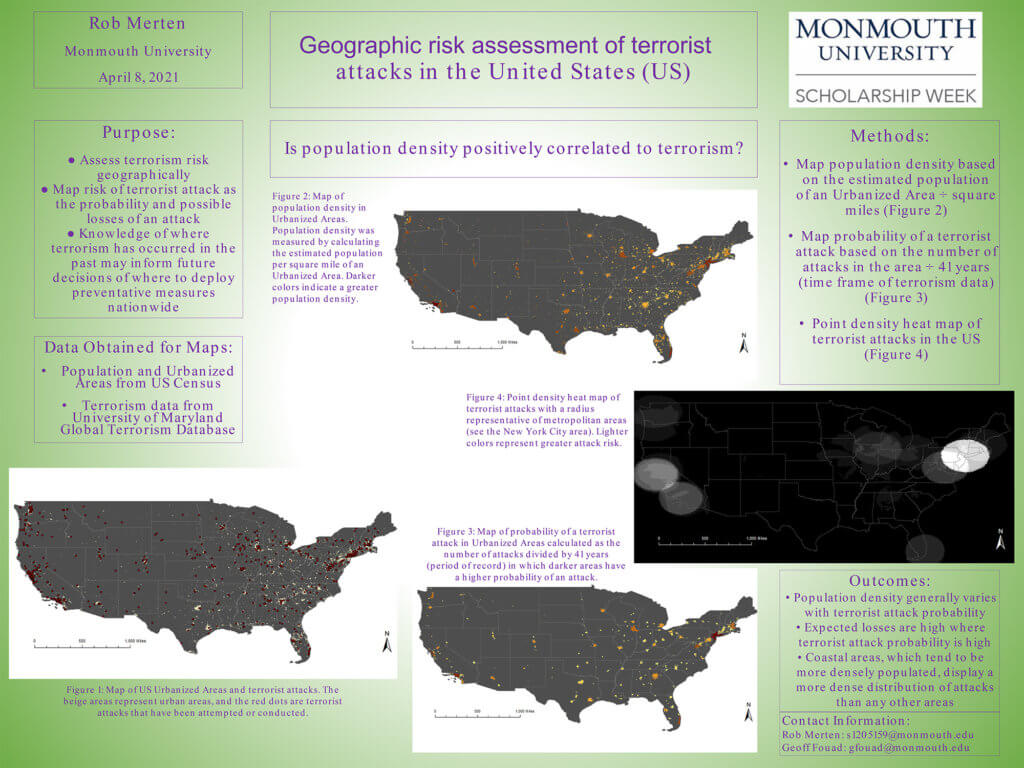 Military Base Security Prioritization Based on Surrounding Critical Infrastructure in the Contiguous U.S.
Pedro Sanchez, Sophomore, Homeland Security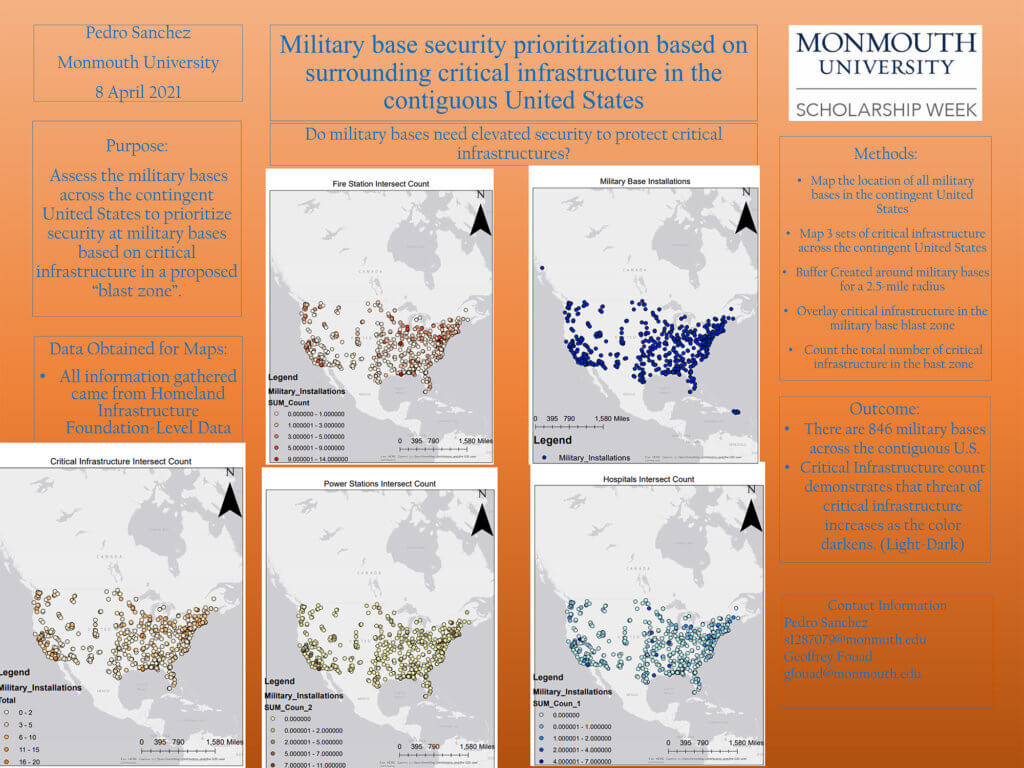 Career Advising Internship Reflections
Harry Termyna, Graduate Student, Educational Counseling & Leadership