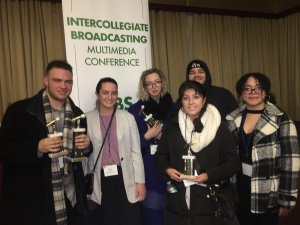 Broadcasters from Monmouth University's student-run radio station, WMCX, received national recognition at the Intercollegiate Broadcasting System's (IBS) 79th Annual International Media Conference held in New York City March 1-3, 2019.
Glen DeNegris won first place for best baseball/softball play-by-play announcer and was a finalist for best football play-by-play announcer. Other finalists at the conference were Molly Fichter for best live music broadcast and Karla Avila, Denisse Quantanilla, Odalis Caraballo, Paola Sosa-Siguenza, and Juan Vega for best foreign language program for their show Nuestros Sonidos Latinos.
DeNegris, a senior communication major, said that the award was a tremendous honor and something he will cherish for the rest of his life.  "I fell in love with broadcasting thanks to the people at WMCX.  Winning this award is a testament not only to the work I've put in, but to all of those at The X who have helped me along the way," said DeNegris. "I especially want to thank my faculty advisor Aaron Furgason for his constant support."
IBS presents golden microphone trophies on an annual basis to honor excellence in programming, air personalities, public service efforts, and outstanding stations among college and high school media.
WMCX began broadcasting on 88.1FM from Monmouth University in 1974. At 10 watts, the station could only be heard within a 2–3 mile radius.  Today, the station has a broadcast radius of approximately 15 miles reaching towns across Monmouth and Ocean counties in New Jersey. The station has more than 500,000 listeners both domestically and internationally thanks largely to the online "listen live" streaming radio feature.
Intercollegiate Broadcasting System, Inc., (IBS) is a nonprofit educational association and foundation founded in 1940 and serves as a resource for nonprofit education-affiliated high school, college, and community tv/radio stations and streaming/webcasters. IBS hosts radio conferences all over the country, presenting over 250 seminars annually.
Additional Links