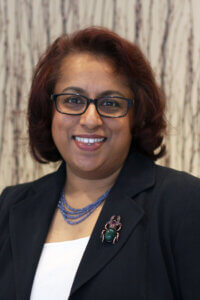 Nancy Uddin, Ph.D., associate professor and chair of the Accounting Department in the Leon Hess Business School was recently elected to a two-year term as chair of the American Accounting Association Governance Committee. The American Accounting Association is the largest community of accountants in academia and shapes the future of accounting through teaching and research.
"I am honored to have been selected as chair of this important committee," Uddin said. "As a leading academic organization, the American Accounting Association is the thought leader in accounting and fosters a fertile environment for research and collaboration. Serving on the governance committee is a wonderful opportunity to help the organization maintain its flexibility in a dynamic and changing academic environment," she said.
Uddin previously served as the president of the Strategic Region Leader Committee within the Mid-Atlantic region of the American Accounting Association. The primary objectives of the Mid-Atlantic Region are to promote research and teaching in the accounting profession; host annual meetings to present and share scholarship and best practices to advance the profession; and to support the American Accounting Association in shaping the future of accounting.