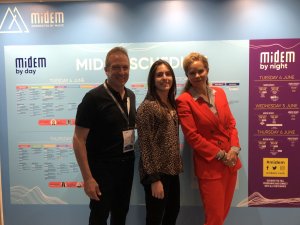 Joe Rapolla, chair of the Music and Theatre Department, attended Midem (Marché International du Disque et de l'Edition Musicale), an annual international music industry conference, held in Cannes, France from June 4 to 7. Invited by Midem organizers to attend the conference, Rapolla met with principals of the Paris-based organization to help develop an academic partnership program.
Launched over 50 years ago, the international business-to-business music market conference welcomed several thousand music industry professionals and artists from around the world.
"This is the largest and most important global music business conference in the world," said Rapolla. "The Midem organizers are interested in establishing an academic partner program, similar to what we did with Jim Donio and the Music Business Association here in the U.S., where universities and students become members, and actively participate at the conference."
According to Rapolla, programming for this type of partnership would include offering interviews for students with recruiters at global music, media, and technology companies, with sessions specifically geared toward university students and recent graduates, as well as a competition for students to present business solutions to top companies, with the winners getting funded to develop their concept.
The idea is to launch with charter universities and students attending and participating at the 2020 Midem conference. Because of Rapolla's leadership in the initiative, Monmouth students will be directly involved.
"This is a great opportunity for our students to expand their visibility globally," added Rapolla.
Monmouth business graduate Vanessa Siravo '18 was also at the conference in Cannes. In 2016, Rapolla introduced Siravo to attorney Dina LaPolt, who represents artists like Aerosmith's Steven Tyler. As a result, Siravo worked directly with Steven Tyler's management as an intern and now works for LaPolt, a veteran attorney in the music business and one of the keynote speakers at Midem.
"Thanks to the mentoring I received and Monmouth's network, I was able to get an amazing opportunity while being at Monmouth that led to a full-time dream job working with some of the biggest artists and executives in the music business," said Vanessa Siravo '18.
Rapolla added, "Like many industries, the music business is learned with the help of hands-on experiences. Having students in professional environments, getting them these experiences, and especially introducing them to key people driving the business, provides them with opportunities that are unique to our program."