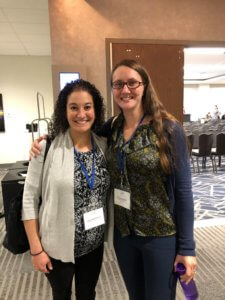 How can students get writing support when they can't get to campus? As COVID-19 swept through the U.S., this became a central question for tutoring services across higher education. Courtney L. Werner, Ph.D., assistant professor of English—whose research focuses on digital composition and writing center studies—has been investigating best practices in these online environments. This semester, Werner co-authored an article, "Tutor Talk, Netspeak, and Student Speak: Enhancing Online Conferences," published in the peer-reviewed Praxis: A Writing Center Journal addressing these concerns.
The article, co-authored by Diana Awad Scrocco, Ph.D., associate professor of English at Youngstown State University, is a part of the journal's issue on "Language and Learning in the Writing Center," and investigates the affordances and constraints of synchronous writing tutorials. Werner and Awad Scrocco analyze synchronous online consultation transcripts from one writing center to evaluate consultation patterns and arcs, approaches to teaching and tutoring, and the role of digital language—also called "netspeak"—in tutors' feedback.
The transcripts lead Werner and Awad Scrocco to argue that tutors can effectively use synchronous tutoring to meet the needs of diverse student populations, but these consultations are most effective when tutors thoughtfully utilize some of the best practices of face-to-face tutoring. One finding suggests that tutors can engage student writers by using soliciting and reacting techniques common in writing center practices.
They also suggest that while using netspeak can potentially establish common linguistic ground with writers, tutors should be aware of the disadvantages of using an informal tone and non-academic language in chat consultations; indeed, they argue that student writers sometimes benefit from reading tutors' chat feedback in Edited Academic Discourse.
Werner and Awad Scrocco believe their research can have a significant impact on tutor training: they encourage writing center administrators to review synchronous tutoring transcripts with their staff to articulate what is, and is not, working and to craft strategies for meeting the need of their specific student bodies.
Werner and Awad Scrocco first presented their research for peer feedback at the joint meeting of the International Writing Centers Association and the National Conference on Peer Tutors in Writing in November 2019. After a successful presentation, their manuscript was accepted for publication in December 2019 and published in June 2020.