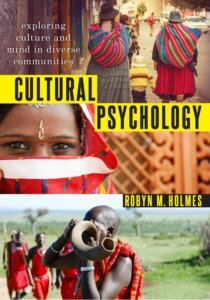 A new book on cultural psychology written by Robyn Holmes, Ph.D., professor of psychology and an associated faculty member in the history/anthropology department, was recently published by Oxford University Press. "Cultural Psychology: Exploring Culture and Mind in Diverse Communities" connects to and informs Holmes's teaching and research interests in culture, children's development, play, and learning.
In 1996, Holmes developed the upper level psychology course, Cross-Cultural Psychology, to complement the department's existing course offerings. As the field evolved, she redesigned the course to reflect changes in student interests and the globally connected world. The course is now titled Cultural Psychology.
Holmes' text explores the connection between culture and psychological processing across diverse cultural communities and settings through the use of culture-specific and cross-cultural examples. It highlights the applied nature of cultural psychology to everyday life events and situations, presenting culture as a complex layer in which individuals acquire skills, values, and abilities. The text is multidisciplinary in scope and highlights the different perspectives that also study how culture shapes human phenomena.
There are two central themes that appear throughout the book. First, according to Holmes, culture is a mental and physical construct that individuals live, experience, share, perform, and learn. "In this view, culture is a context that guides and shapes our actions, decisions, and the skills and values we acquire," Holmes said.
Second, Holmes argues that culture shapes growth and development. Traditional topics appear alongside unique topics that include learning, development across the life span, war, child soldiers, child maltreatment, bullying, and children's play. The text contains thought-provoking questions, exercises, and experiential activities that reinforce problem-solving skills and encourage readers to reflect on how culture shapes their personal experiences.
Holmes also authored the numerous instructor resources that accompany the text.
Holmes received her Ph.D. from Rutgers University and is a specialist in children's play and ethnographic methods. Her research and teaching interests are interdisciplinary and include the connection between play and culture, children's folklore, and recess.