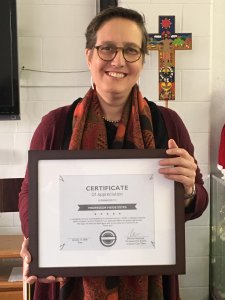 English Professor Heide Estes, Ph.D., delivered a presentation called "Climate Crisis: What Can We Do?" at the annual climate lecture at St. Anselm Church in Tinton Falls, New Jersey on Jan. 11.
Estes encouraged the audience of 30 parishioners and guests to sequester carbon, reduce their own carbon consumption, and commit to community activism. All levels of action are necessary to reduce the impacts of climate change, not just on future generations, but now, according to Estes.
Sequestering carbon is the easiest part here in suburban New Jersey, Estes explains, and involves replacing our lawns with shrubs and trees. Native plants also provide habitat for wildlife, including local and migrating birds, as well as the bugs that support them. Additionally, maintaining flower beds and shrubs around trees is a lot less work than keeping a lawn; it eliminates the need for toxic weedkillers and for the gas that powers lawnmowers and leaf blowers.
In her lecture, Estes also explains that reducing our own carbon footprint requires personal change, which can be difficult. However, she argues, if we aren't willing to do so, even if we accept the science of human-caused climate crisis, we are acting as though we are in denial. Ways to combat this can include reducing personal carbon emissions by resisting buying new things, switching home heating and cooling systems to renewable energy, moving toward a plant-based diet, avoiding food waste, and taking ground-based public transit as an alternative to either driving or flying.
Another way to personally transition to renewable energy is to install solar paneling on your home, but Estes acknowledges that this can be costly. To change this, she suggests engaging in community activism to increase pressure on government to provide larger subsidies for rooftop solar panels, replacing fossil-fuel based electric generation plants with wind and solar installations, and advocating for better public transit options in our state.
Estes concludes from climate communication research that talking to others about what we are doing to mitigate our own carbon footprint is highly effective. She explains that simply communicating with friends and family members about the need to reduce our personal emissions is a basic form of activism that everyone can engage in, even those who aren't able to attend town meetings and advocate more publicly for change. Contacting elected officials to make it clear that there is strong community support for climate-focused legislation and funding is also important.
Estes' full lecture can be viewed online.