Susan Meyer, MFA, specialist professor of foundations in the Department of Art and Design, is included in the six-person exhibition, "SHAPESHIFT" at the Fridman Gallery in Beacon, New York, from July 30–Sept. 4. Along with Meyer, the exhibition includes: Jill Baroff, Natalie Beall, Ellen Driscoll, Gordon Hall, and Christina Tenaglia.
Meyer is exhibiting four works in "SHAPESHIFT": two sculptures and two wall-based works. An opening celebration will be held on Saturday, July 30 from 4 – 7 p.m. 
The gallery website states, "Fridman Gallery is honored to announce an exhibition gathering together new and recent work across media by artists living and working in the Hudson Valley. The works in this exhibition oscillate between being recognizable as functional objects and evading definition. The artists in 'SHAPESHIFT' uncover new possibilities through deconstructing and recoding the various relationships among nature, architecture, and the human body."
"Susan Meyer's brightly colored multi-faceted acrylic sculptures echo the psychedelic tones and architectural pursuits of utopian communities of the 1960s and 70s, exploring the tension between the environment and the manufactured world."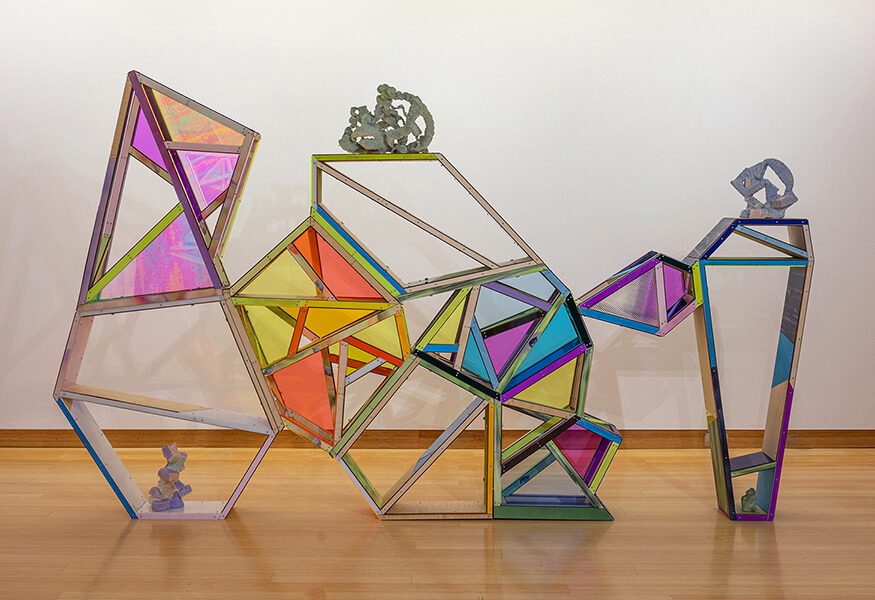 The gallery is located at 475 Main St., Beacon, NY, and is open Wednesday–Sunday, 11 a.m. – 6 p.m., and by appointment. 
Meyer received an Urban Coast Institute Faculty Enrichment Grant (Spring 2022) and a Creativity Grant (Spring 2022) from Monmouth University. As part of the UCI Grant, Monmouth students Yasmin Abdul-Moniem, sophomore, and Victoria Abels, junior, assisted Meyer with research and creative work.