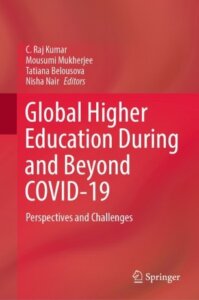 Rekha Datta, Ph.D., professor in the Department of Political Science and Sociology and Freed Endowed Chair in Social Sciences, contributed a chapter to "Global Higher Education During and Beyond COVID-19: Perspectives and Challenges," published by Springer. Each chapter explores challenges faced by universities around the world in the middle of the global COVID-19 pandemic, and brings together perspectives from administrators, practitioners, and experts in the field of higher education.
The volume is organized in four thematic sections: Institutional Responses to the Pandemic, Challenges of Digital Transformations, Social Justice, Equity, and University Social Responsibility, and Rethinking Performativity, Finance, and Entrepreneurship. Datta's contribution, "Class Dismissed: Lessons of the COVID-19 Pandemic for Remote Learning, Equity, and Public Assistance in Higher Education in the United States," was included in the section related to challenges of digital transformations.
In her roles as an administrator and faculty member, Datta has broad experience in global education. She was the founding director of the Global Understanding Project, an integral part of the Institute for Global Understanding (IGU) at Monmouth University, which she also founded. Through the IGU, Datta facilitated partnerships with the United Nations-DPI, the United Nations Academic Impact, and Project BAM, a mentorship program with Asbury Park High School.
Most recently, Datta served as interim provost and vice president for academic affairs from 2019 to 2021. She was interim director of the Center for Excellence in Teaching and Learning from 2014 to 2015, and interim vice provost for global education from 2015 to 2016. From 2017 to 2018, she was a United States Senior Fulbright Scholar award recipient for research and teaching in India. She also served on the Committee on the Status of Representation and Diversity of the International Studies Association and is an affiliated faculty member of the South Asia Center at the University of Pennsylvania.