Associate Professor of English Stanley Blair recently visited the Stephen Crane House to contribute to the Asbury Park Historical Society's Women's History Month tribute to writer Margaret Widdemer (1884-1978), designated by the Asbury Park Museum as a "Trailblazing Woman of Asbury Park."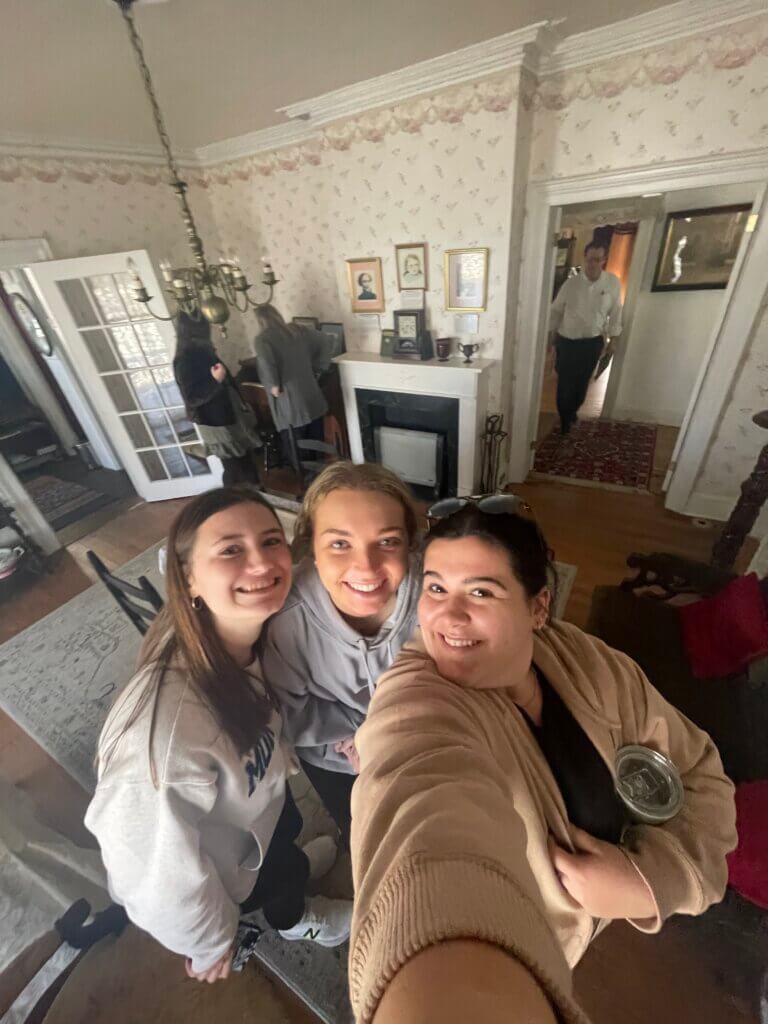 Crane House Writer-in-Residence Tom Chesek said the "entire afternoon [was] spent exploring the life, literary legacy, and legendary localism of the oft-overlooked fiction writer, poet, and memoirist." The program consisted of three parts, of which Blair contributed two.
The first considered Widdemer's memoirs about her early years in Asbury Park, where she was raised starting in about 1894 and where she maintained family connections until at least 1915. Yet her 1964 memoir "Golden Friends I Had" provides only scattered details on her early years. However, when Blair visited the Special Collections Research Center at Syracuse University, he found a typescript memoir dating decades earlier, to 1933, including photographs. The typescript memoir provides a different narrative perspective on and much greater detail about Widdemer's Asbury years. Blair also discussed Widdemer's fictionalization of local communities in her 1920 book "The Boardwalk."
Blair's second contribution to the program was an introduction to and commentary to brief excerpts from "The Dream Lady," a 1918 silent film adaptation of Widdemer's 1915 novel "Why Not?" by director Elsie Jane Wilson. For a brief period in the late 1910s, Wilson was one of several female directors hired by Universal to produce feature films intended for female audiences. Though Wilson's film deletes the novel's indirect references to local geography, it preserves much of the novel's plot.
The program concluded with actress Sandra "Sam" Lavallee McLaughlin performing poems from Widdemer's 1918 award-winning book of poems "The Old Road to Paradise," interspersed with prose passages from her 1964 memoir.
Several Monmouth University students attended and asked questions, positively impressing Asbury Park Museum Treasurer Susan Rosenberg, professor emerita at Brookdale Community College. The students were especially engaged by Widdemer's fictionalizing of Asbury Park and adjacent communities of more than a century ago. Junior health studies major Kendal O'Neill remarked, "It was really interesting the way she makes these fictional towns all based on real ones around this area." Junior business student Alana Aufiere agreed: "I was able to learn about Widdemer's early life in Asbury which I found so interesting because it is about our local history. It was fascinating to see how she used places near here with similar names to describe her surroundings growing up.…I hope more people take advantage and learn more about our local literature history!"
Junior English/Creative Writing major Nicole Conti, an admirer of Widdemer's writing, was "very glad" that "one of my favorite novels" was included. Conti was struck by an apparent irony of the author's career and reputation: "The part of Margaret Widdemer I learned (that I am intrigued most by) is her obscurity within a field of gold….She clearly had the likability, the talent, and the wits to befriend the stars at the time, but it made me ponder why she did not reach their status. She won awards, associated with literature royalty, [and] had famous friends but barely any 'fame.'" Conti was grateful for the presentation "that generated deeper thinking and some newly learned facts."
Chesek said that "we can speak for many in attendance, when we say that more than a few newly minted Widdemer fans were present and accounted for!" He added that Blair's contributions to the program were "a delightful start to what we hope will be a long-running collaboration between the Historical Society/Crane House and the English Department at Monmouth." Professor Rosenberg agreed: "I loved his scholarly presentation; I kept learning so much," she said. "An Asbury Park native, myself, I am grateful that he has raised the awareness and insight into Margaret Widdemer's deserving prominence."
The Asbury Park Historical Society's Stephen Crane House, 508 Fourth Avenue, is open to the public on Sunday afternoons, noon to 2:00, during the off-season, and the Asbury Park Museum is sponsoring a free pop-up exhibition in the Berkeley Oceanfront Hotel's lobby, 1401 Ocean Avenue.