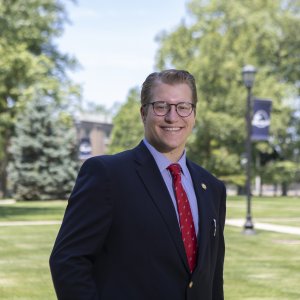 Political science graduate Connor Wagner '19 has recently earned an internship with the Pentagon under the Department of Defense (DoD). Wagner works as assistant Afghanistan country director in the Office of the Deputy Assistant Secretary of Defense for Afghanistan, Pakistan, and Central Asia.
In this role, Wagner works with U.S. forces in Afghanistan to develop requirements for requests to Congress for the Afghanistan Security Forces Fund in the 2021 fiscal year. He also assists the office by drafting responses to information requests and questions from congressmen, congresswomen, and senators about Afghanistan that are sent to the Secretary of Defense, as well as requests from the DoD Inspector General and the Special Inspector General for Afghanistan reconstruction.
"Since arriving at my internship, I have run into an extraordinary amount of Ivy League college students and graduates," said Wagner. "When they ask me where I went to school I proudly respond 'Monmouth' because I believe that above all else, Monmouth has provided me an education and experience that rivals those institutions."
In particular, Wagner references Monmouth's Polling Institute as having a profound effect on his professional life. "Patrick Murray, Tina Johnsen, and the rest of the polling team have immersed me in a number unique experiences which have furthered my professional development," said Wagner. "The Polling Institute is just one example of what Monmouth has done for me throughout my undergrad career. Without it, I would not possess many of the professional skills that are so vitally important to a job at the Pentagon."
In the future, Wagner hopes to work in the field of National Security Policy and Foreign Relations as a civil servant in the Department of Defense.