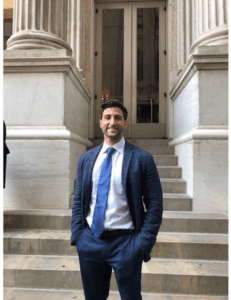 University alumnus Michael Lucia '14 was recently accepted into the public policy graduate program at the John F. Kennedy School of Government at Harvard University, which is considered one of the nation's top graduate schools for public affairs according to U.S. News & World Report.
Lucia hails from Shrewsbury, New Jersey and graduated from Monmouth with a political science degree. While at Monmouth, he was an active member of the university's mock trial team and political science club. Lucia spent his final semester participating in Monmouth's Washington Semester program, where he interned for Rep. Chuck Fleischmann (R-TN).
After graduating from Monmouth, Lucia went on to study law at George Washington University Law School, where he graduated with honors in 2017. Immediately after graduating law school, Lucia practiced law at New York City firms Schulte Roth & Zapel LLP and McDermott Will & Emery LLP, where he specialized in advising private equity fund sponsors on compliance with U.S. federal securities laws. His biggest project involved a $3 billion closing that included over 200 investors across five continents.
Lucia remains an active member of Monmouth's political science alumni organization and is always eager to help mentor current political science majors. "I'm happy to help current Monmouth students anyway I can," Lucia said. "I really don't think I'd be in this position if I hadn't transferred to Monmouth–my Washington semester experience and my involvement with faculty and students in the political science department has played a huge role in my decision to apply to the Harvard Kennedy School."