Monmouth University is turning 90 and kicking off our birthday celebrations with Giving Days 2023, a 48-hour campaign to raise support for students and programs. Our students have big ambitions, and your gift can help them excel.
In 2022, Giving Days donors contributed nearly $200,000 to 75 different funds, representing scholarships, favorite academic programs, Division I sports, and clubs and organizations close to their heart. Their support made an immediate impact on our students, providing additional resources that helped them soar. Now, we're counting down to Giving Days 2023. And our students are counting on you.
Help Hawks Today!
Save the dates to make your gift of $33 or more—in honor of our founding year—on March 23-24, and we will send you our limited edition socks!
Want more swag? Sign up to be an official Giving Days Ambassador and help spread the word.
Be a signatory on a Giving Days email that will go to members of the Monmouth community. Are you in?
Share Giving Days posts and emails with your Monmouth community. Don't forget to follow and tag us on Facebook and Instagram and use #MonmouthGivingDays. We'll share the message!
Issue a Challenge by making a personal gift that motivates others to show their support. For example: Emily Blaser '19 challenges SGA alumni to participate. When they do, Emily makes an additional gift!
Our students can do anything, but they need your help. When Hawks fly together, we can make this the most successful Giving Days celebration yet! Please save the dates to support all Hawks on March 23 and 24.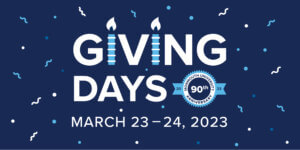 For more information, read the FAQ or contact the Office of Annual Giving at annualgiving@monmouth.edu.