All gallery events are free and open to the public
The Center for the Arts at Monmouth University has announced three new gallery shows opening this month in the on-campus galleries. On display in the Pollak Gallery from Jan. 21 through March 13 is "Access and Opportunity, Diversity, and Inclusion." This juried exhibition will feature almost 50 works by 35 artists from all across the United States that define what it means to be a good citizen in a global context, a person appreciative of all cultures and committed to fairness with respect and equality for all.
The work was selected from over 200 submissions by a jury of professors/professionals across campus in several different disciplines. Artists were asked to submit works that look broadly at access and opportunity for all members of society regardless of age, disability, ethnicity, gender identity, national origin, race, religious affiliation, or sexual orientation to recognize, appreciate, and respect difference. There will be an artist reception on Feb. 8 from 6 p.m. to 8 p.m.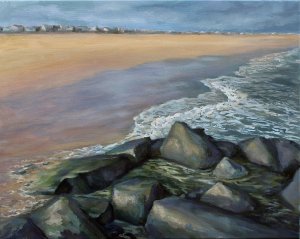 The second exhibit, "Lightscapes" by Gina Torello, will be housed in the Rotary Ice House Gallery starting Jan. 21. In her retrospective exhibit, Torello demonstrates how light intertwines the subject matter of her oils, pastels, printmaking, photography and sculpture in the Ice House Gallery. As you explore "Lightscapes," you will be surrounded by examples of how this light pulls you to various environments – evoking emotions, some subtle and some turbulent. The exhibition does not seek to duplicate nature, but instead allows the expressive and intimate use of color and light to dance within the work. Her exhibit will run through March 13. An artist lecture for "Lightscapes" is slated for Jan. 31 from 6 p.m. to 7 p.m., with an opening reception to follow from 7 p.m. to 9 p.m.   
In Rechnitz Hall's DiMattio Gallery, Aurora Robson's exhibition "Inquire Within" will be on view starting Jan. 21. Robson is a multi-media artist known predominantly for her expansive work intercepting the plastic waste stream and for her gently activist approach. Her practice is about subjugating negativity and shifting trajectories. She employs every day materials found in the waste stream to generate otherworldly yet familiar compositions, installations, and sculptures. Robson's work formally references recurring trauma-related nightmares (common in children) that she experienced in her youth, hybridized with forms found in nature. Robson's exhibit will be on display through March 13. An artist lecture will be held Feb. 7 from 6 p.m. to 7 p.m., with an opening reception to follow from 7 p.m. to 9 p.m.
For more information about these events and all Monmouth University Center for the Arts events visit  www.monmouth.edu/MCA or call 732-263-5715.