The New Jersey chapter of the Public Relations Society of America (PRSA NJ) recognized Monmouth University student Karalyn Hoover as the Future Public Relations Professional of the Year on June 12 during its 30th Annual Pyramid Awards Banquet at the Basking Ridge Country Club.
Hoover, who expects to graduate in 2020 with a bachelor's degree in communication with a concentration in public relations/journalism and a minor in marketing, wrote a thorough crisis communications plan about a fictional beverage company with an E. coli outbreak. She wrote a situation analysis, strategy, implementation and an assessment that included an apology and a plan of action to prevent future outbreaks.
"Our industry's future looks bright," said PRSA NJ President Ilana Zalika. "We were all impressed with Karalyn's ability to develop a comprehensive, professional-caliber strategy to address a PR crisis. Based on her crisis communications report, it's clear that she already understands that apologies only matter when they are tied to behavior change; it's one of the more challenging conversations we have with our clients as advisors."
The annual award recognizes an undergraduate student who demonstrates a sophisticated understanding of and commitment to the public relations profession. The winner receives a cash scholarship of $3,000, Certificate of Achievement and one-year membership for PRSA National and PRSA NJ ($95 value).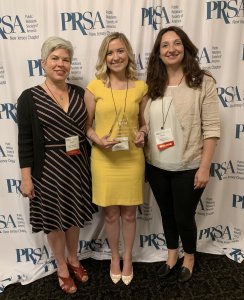 "It is such an honor to win this year's PRSA NJ Future Public Relations Professional of the Year award," Hoover said. "PRSSA [Public Relations Student Society of America] has been such an important part of my experience at Monmouth University, and to win such an award from PRSA means the world. I'm extremely grateful to have been encouraged by my professors, Alexis Nulle and Kristine Simoes, to apply for the scholarship and thankful I seized the opportunity. I'm very much looking forward to a life-long career in public relations after my graduation next May and eagerly await new opportunities along the way."
Zalika said PRSA NJ's long tradition of presenting the Future Public Relations Professional of the Year Award would not be possible without the generosity of its supporters. Johnson & Johnson sponsored the 2019 award.
PRSA NJ established the Pyramid Awards in 1989 to recognize public relations excellence in New Jersey. Since then, the Pyramids have become the state's most prestigious communications award.
2019's Best of the Best
In addition to individual awards, PRSA NJ presented 28 awards for excellence in the profession.
Montclair-based RoseComm won best Best-in-Show (Campaign) for its work on the benefits of breastfeeding for Byram Healthcare, based in the Somerset section of Franklin Township. RWJ Barnabas Health, based in West Orange, won Best-in-Show (Single Item) for its print magazine.
From a company perspective, Princeton-based Resound Marketing and Montclair-based Violet PR won four awards apiece. Resound Marketing won the Pyramid award (i.e. first place) in Media Relations-Consumer (WowWee Toys), Content (Replicon) and PR on a Shoestring Budget (Java House Cold Brew Coffee), as well as an honorable mention in Influencer Campaigns (WowWee Toys). Violet PR won Pyramids in Media Relatons-B2B (Lincoln Equities Group), Events (Kansas City Area Development) and PR on a Shoestring Budget (The Alleghany Conference on Community Development), as well as an honorable mention in Digital and Social Media Communication (The IBM Foundation).
In addition to Johnson & Johnson, sponsors of the event included MultiVu (PR Pro of the Year), BML Public Relations (Gold), Monmouth University (Silver) and Communications Match (Bronze).
About PRSA NJ
PRSA NJ is the New Jersey chapter of the Public Relations Society of America, the nation's largest professional organization serving the communications community. The organization's nearly 300 members represent corporate, agency, and independent professionals across a wide range of industry sectors. PRSA NJ is led by a board of directors comprised of industry leaders from throughout the state, dedicated to executing on the national association's vision of "making communications professional smarter, better prepared and more connected through all stages of their career." This includes providing regular content and events that deliver education, professional development, and networking opportunities to members, as well as to the nine student chapters of the Public Relations Student Society of America (PRSSA) at colleges across New Jersey. For more information, visit www.prsanj.org.