Program includes inaugural Dr. Martin Luther King Jr. Distinguished Speaker in Social Justice
WEST LONG BRANCH, N.J.– In honor of the 85th anniversary of its founding, Monmouth University held its annual Founders' Day convocation on Wednesday, Oct. 10 on campus in Pollak Theatre.
At the ceremony, Monmouth awarded the Maurice Pollak Award for Distinguished Community Service to Barry H. Ostrowski, president and CEO of RWJBarnabas Health.  The University also recognized H. William Mullaney (Class of 1960) with an honorary doctorate of humane letters, and New Jersey Secretary of Higher Education Zakiya Smith Ellis, who also delivered the convocation address, received an honorary doctorate of public service.  This year's Founders' Day event also included the inaugural lecture in the Dr. Martin Luther King Jr. Distinguished Speaker in Social Justice series. Ruha Benjamin, Ph.D., associate professor of African American studies at Princeton University, delivered a speech earlier in the day titled "Envisioning Social Change for the 21st Century" as the inaugural speaker.
Ostrowsky was honored with the Pollak Award for his dedication to enriching the quality and scope of health care throughout the region during his career.  The award is named in honor of Maurice Pollak, a Monmouth University life trustee and benefactor.  "This award is not given on an annual basis, but only in circumstances when we are fortunate to identify an individual who exemplifies the qualities of service to others and the community that this award recognizes," said Monmouth University President Grey J. Dimenna.
With RWJBarnabas, Ostrowsky is spearheading a system-wide endeavor to promote healthier living and to address the social needs of diverse communities by partnering with Rutgers University to form New Jersey's largest and most comprehensive academic health system. Ostrowsky joined Saint Barnabas Medical Center in 1991 as executive vice president and general counsel and served in the same role when Barnabas Health was created in 1996. At Barnabas Health, he became president and chief operating officer in 2010 and president and CEO in 2012. In 2016, with the merger of Barnabas Health and Robert Wood Johnson Health System, he assumed his present position. Ostrowsky is an active member of the community, serving on the boards of PSEG; the New Jersey Chamber of Commerce; Public Media NJ, Inc., operator of NJTV; and the New Jersey Performing Arts Center.  He is also a member of the American Hospital Association (AHA) Health Care Systems Governing Council.
"It's an honor for me to accept this incredible award, named for someone who was a humanitarian and understood the importance of investing in the community and the people who live in the community," said Ostrowsky.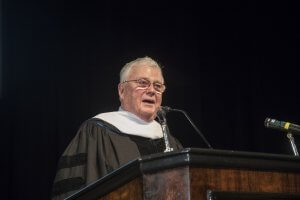 Mullaney, honored for his dedication to the University, is a member of the University's Society of Trustees and former member of the Board of Trustees.  Along with his wife, Sandy, the Mullaneys are the namesake of Mullaney Hall at the University. Mullaney founded Mullaney Insurance Associates as an independent organization in 1961, which later became a division of Commerce Bancorp, Inc. in July of 1999. Mullaney served as a vice president of the Monmouth County insurance operation until his retirement in 2001.  He is involved in many charitable organizations, including Family and Children's Services and the United Way of Monmouth.
"H. William Mullaney: influential businessman, dedicated volunteer, generous benefactor, we honor you here today for sustained service to Monmouth University and its community," said Monmouth University President Emeritus Paul G. Gaffney II, who presented the award.
Accepting his honorary degree, Mullaney spoke of his deep connection to the university.  "Thank you for this great honor, the highest of my life," he said. "The best part of my life started here at Monmouth.  My first date with [my wife] Sandy was at Wilson Hall."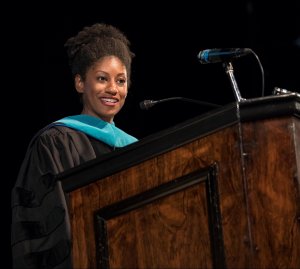 Smith Ellis, who received an honorary doctorate of public service, serves as New Jersey's Secretary of Higher Education
and is responsible for policy development and coordination of higher education activities for the state. She has previously led work at Lumina Foundation that focused on affordability of higher education, and has also served in the Obama administration, where she developed solutions to pressing challenges in college access, affordability, and completion.
Delivering the convocation address, Smith Ellis urged the crowd to consider a life in public service. "There's a place in public service for all of us," she said.  "You can make a life in public service in almost any field. Whatever your talent, whatever your interest, there is some problem in public life that this world is just begging you to solve."
Benjamin, the distinguished speaker in social justice who delivered a speech earlier in day, spoke about the ways in which racism infects the "pipes" of our society, permeating through our history, our laws, and our institutions.  She encouraged the audience to use their innate human ability to be "pattern makers," and to begin to weave a more equitable society through the creation of new patterns, politics, and practices.
Benjamin said that this process starts with individuals expanding their imaginations of what is socially possible and questioning the world around them, while also warning that this would not be an easy feat.  "We act as if standing up for justice is going to make us feel good or make us popular," said Benjamin.  "In fact, it's going to make us uncomfortable and we will experience hardship."
Founders' Day is a campus-wide event that celebrates Monmouth University's founding in 1933. The first Founders' Day was held in 1983 as a part of the University's 50th anniversary celebration and has since become a University tradition.