Janine Frederick's story "Awaken" was published in the anthology Out of Our Minds: Tales from the Comics Experience. The stories were all written and workshopped in Andy Schmidt's Comics Experience writing course and feature illustrations by artists from around the world.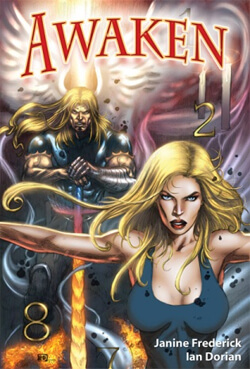 The 76-page trade paperback contains 12 stories, covering a wide range of genres and styles—from tales of the heart's longing, heroism, and high adventure to stories of emerging madness, darkness, and apocalypse. Frederick's six-page story is about a 17-year-old girl who discovers that she's the Antichrist, with artwork by Ian Dorian and lettering by Ken Frederick.
Frederick is an up-and-coming comic book writer from Hazlet, NJ. Her first comic script received second place at the DC Comics' Zuda Comics competition in March, 2010. She works at Monmouth University as assistant website developer.
The anthology is $10 and can be purchased online atwww.indyplanet.com.
For more information, contact author Janine Frederick atj9naimoli@comcast.net.