Monmouth University's Student Employment Office announced Student Employee and Supervisor of the Year awards in celebration of its 24th Annual Student Employee Appreciation Week held March 29 to April 4.
Aimee Parks, assistant director of human resources for student employment, said over 1,100 student employees worked on campus in over 1,700 different jobs this year. A total of 21 students were nominated for the Student Employee of the Year award.
"Student employment supervisors complete nomination essays critiquing students on communication, digital technology, problem solving, professionalism and work ethic, career management, leadership and teamwork," Parks said. "This year's nominees are making the most of their job experiences."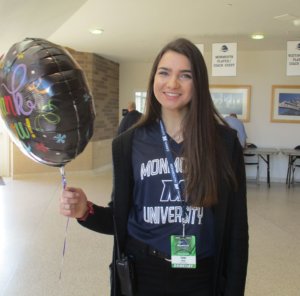 2020 Student Employee of the Year
Junior Taylor Ramiz won Student Employee of the Year for her work in athletics marketing. According to her supervisor's nomination, Ramiz is a team player, team leader, extremely dedicated and never shies away from learning something new. She accepted a role that is typically a graduate or an "adult professional" level, while always demonstrating incredible poise. Ramiz, according to her supervisor, is by far the most confident and comfortable student to have worked in her position where she is in charge of the flow of the game for stadium and arena sports and "runs the field/floor."
2020 Student Employee Supervisor of the Year
Colleen Finnigan in the Department of Curriculum and Instruction was recognized as the 2020 Student Employee Supervisor of the Year. Emily Condron, a student employee who nominated Finnigan, said, "There are not many people who can completely fill a room with warmth and joy as they walk through the doorway, but Mrs. Finnigan is one of them." Finnigan has worked at the University for 12 years.
Student Employment Program Award
In honor of his lasting contribution to Monmouth University, Alexander Rodriguez was recognized for his efforts in establishing a "Story Time" program at the Guggenheim Library with the support of head librarian Kurt Wagner. Rodriguez, together with his colleagues over the past four years, has worked to organize approximately 20 story times and hosted many children, their families, and caregivers. He heads up email communication and has contributed as a reader in English and Spanish.
2020 Honorable Mention for Student Employee of the Year
Erin Conlon, recognized as an honorable mention for the Student Employee of the Year Award, was nominated for both of her on-campus jobs as a biology lab manager and a research assistant for the Urban Coast Institute. According to Conlon's nomination, she maintains unwavering professionalism, ensuring work gets done and less experienced students feel comfortable–even if it is below deck on the ocean. Conlon motivates tired class members to "dig deep" and even supervised the boat sampling team on her own to ensure the work was done correctly and efficiently.
2020 2nd Honorable Mention for Student Employee of the Year
Anadi Saini, nominated for her role as a biology lab assistant by James Mack, Ed.D., was also an honorable mention for the Student Employee award. According to her nomination, Saini gives Monmouth an excellent reputation, possessing the qualities of honor, integrity and truth. She is a great help to faculty in utilizing digital technology and is the best relationship builder with fellow students, faculty, and Monmouth staff that her supervisor has observed in his 47 years at Monmouth.
National Student Employment Week officially takes place April 12 to April 18. The week is designed so students may understand their impact and contribution in their job(s), employers may maximize awareness of the service students provide, and college and university campuses increase their participation and discussions of student employment and career related issues.