Current and former Monmouth University students are the featured artists on a new album celebrating diversity and inclusion that will debut on June 30. The album is recorded and produced by Monmouth Artists for Diversity and Inclusion (MADI), a new collaborative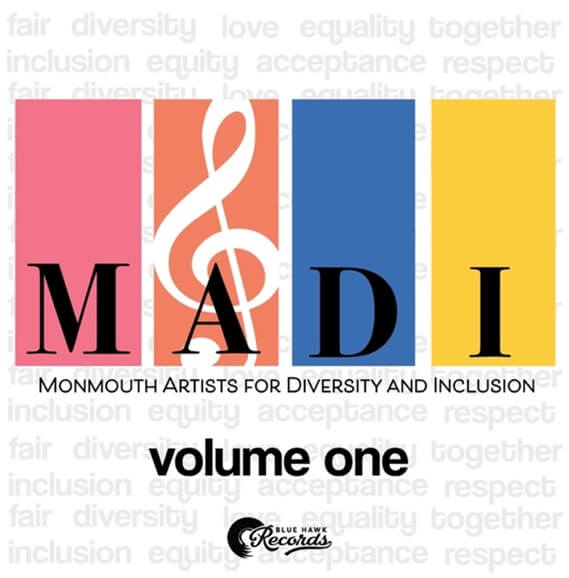 effort that emerged from Blue Hawk Records, Monmouth University's student-run record label, and supported by the Office of the Provost and the University's Intercultural Center with a Diversity Innovation Grant (DIG).
The goal of the DIG initiative is to provide encouragement and financial support to members of the campus community who want to take an active role in the University's shared commitment to promoting diversity and acceptance.
Acting on the opportunity, Lawrence Jones, a former New Jersey Superior Court judge and adjunct professor of political science, approached Music & Theatre Department Chair Joe Rapolla about co-sponsoring a proposal to establish MADI through DIG funding. Along with Rapolla and Jones, the faculty team also includes Rashida Scott-Cruz, an adjunct professor in the Music and Theatre Arts Department who teaches business of music and experiential learning music industry internship courses.
Rapolla said the central idea of MADI is to evoke and inspire the imagination of the Monmouth University community in a way that promulgates diversity, inclusion, and cultural awareness through music, spoken word, and art. As part of this project, a diverse student advisory panel worked in close collaboration with the faculty team to oversee both the selection of music and the production of the MADI release, as well as related promotional activities.
"An important goal in creating MADI was to provide students with a forum for artistic expression and public commentary on critical social issues facing our nation today," said Jones. "The University's support has been invaluable to the process of helping to transform the idea of MADI into a reality, and as a result, students from different backgrounds came together to share their talents and personal experiences in a highly creative and educational way, and are now launching MADI's amazing debut album," he said.
"It seems both serendipitous and entirely fitting that our faculty team heard the mixes for the first time on Juneteenth, during African American Music Appreciation Month," Scott-Cruz said of the project.
Rapolla said the entire Monmouth community, including students, alumni, employees, and friends, were invited to submit any work they felt was in solidarity with the overall concept of celebrating diversity and inclusion through art. "The MADI team carefully deliberated over the pool of submissions, selecting songs that conveyed powerful and healing messages and met the requirements of the grant," Rapolla said.
Working within a compressed time frame, the MADI team met regularly to see that the songs were well-composed, produced, and distributed, all while developing media assets for marketing and promotion. The final product includes five original works, including one remix and one spoken word, that will appear on the "MADI Volume One" compilation.
The new release includes songs by recent graduate Shadiyah Jai, and current students Dillon Schindler, a junior, and Jenaé Louis-Jacques, who is a senior. Set to release on June 30, "MADI Volume One" will be available on all streaming platforms globally. A vinyl version of the album will be available for purchase via the Qrates platform.
The MADI team is planning a live event to celebrate the release in the fall, and there are also plans for MADI to function as a stand-alone division of Blue Hawk Records.
Listen to M.A.D.I. Volume One: On Spotify | On Soundcloud
For more information visit bluehawkrecords.com