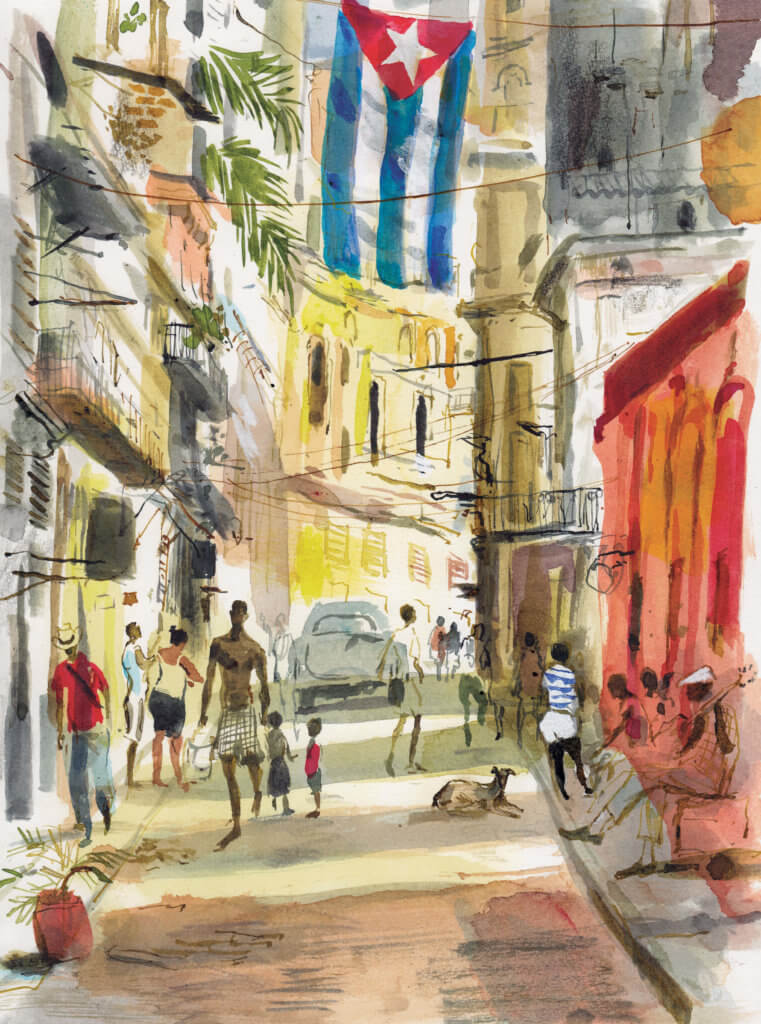 A series of illustrations commissioned for the fall 2019 issue of Monmouth magazine has been honored with a Bronze level Circle of Excellence Award from the Council for Advancement and Support of Education (CASE).
The illustrations, which were drawn by London-based artist Dan Williams, accompanied an essay by Professor Priscilla Gac-Artigas about her travels throughout Cuba, a place she describes as "a symphony of voices" that "vibrates with a singular rhythm." Williams' illustrations incorporate visual indicators of rhythm, music, and voices to help bring the symphony alive for readers.
"The styling of this submission certainly matches the atmosphere, energy, and vibrancy of Cuba," the judges wrote in their award report. "The palette is inviting. One can almost feel the warmth of the setting sun." Further praising the illustrations' "timelessness" and "emotive" style, the judges noted, "The illustrations align very well with the energy of the written piece, each elevating the other."
According to the CASE website, the peer-selected Circle of Excellence Awards "acknowledge superior accomplishments that have lasting impact, demonstrate the highest level of professionalism while delivering exceptional results in the fields of advancement services, alumni relations, communications, fundraising, and marketing at colleges, universities, independent schools, and affiliated nonprofits."
In 2020, CASE received 2,752 entries from 587 institutions located in 28 countries.
This is the second year in a row that Monmouth magazine has won a Circle of Excellence Award.