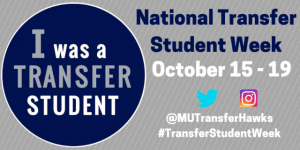 The second annual National Transfer Student Week takes place this year from Oct. 15 to Oct. 19. This awareness campaign aims to recognize the contributions transfer students bring to schools across the nation, examines how higher education can better support these students, and celebrates the educators who embody dedication to transfer student service.
As part of the National Transfer Student Week celebration, Monmouth will host a panel titled "Ensuring the Success of Your Transfer Students" on Oct. 18 at 10:05 a.m. in Wilson 104.  This discussion will share best practices surrounding transfer advisement at the University.  Advisors who work with transfer students are encouraged to attend.
This week also provides a time for educators to reflect on how they can help improve transfer-related issues on their campuses. Monmouth University's Transfer Services Office has worked diligently to update all transfer orientation programs, and these improvements resulted in the largest transfer orientation program in the University's history this past July.
Join in celebrating National Transfer Student Week. Follow The Office of Transfer and Undeclared Services on Twitter and Instagram to join the conversation. Students can also stop by the Transfer Nook anytime from Oct. 17 to Oct. 19 for activities and prizes.
National Transfer Student Week plays a critical role in today's higher education landscape. With almost 37 percent of students transferring during their undergraduate education, the need to celebrate their accomplishments, and thereby create more transfer-friendly environments is vital. Please take a moment to recognize transfer students on earning their associate's degree, balancing work and life commitments with their course work, and the many other challenges they overcome to complete their four-year degrees.