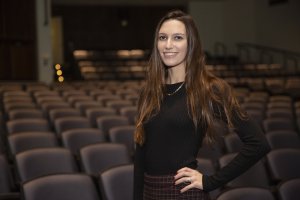 A total of 107 high school students from Monmouth and Ocean counties graduated from "mini-medical school" on Oct. 28 in the university's Pollak Theatre.  A collaboration between Monmouth University, Hackensack Meridian School of Medicine at Seton Hall University, and Hackensack Meridian Health, the six-week Mini-Medical School program exposes local high school students to careers in medicine, providing them opportunities to hear from various health care professionals in fields ranging from pediatric endocrinology to neurosurgery.
Bernadette Dunphy, co-director of the program and a specialist professor in the biology department at Monmouth, said that the Mini-Medical School offers the opportunity to show students what the medical school process will be like in the future.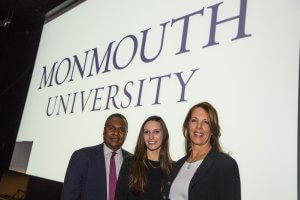 "When you desire to be a medical health professional at a high school level, you may not realize all that is involved in taking that path," Dunphy said. "This mini education enables students to plan the appropriate undergraduate and AP [Advanced Placement] courses and to start thinking about how and what steps they can begin to take to prepare for their career."
Gabriella Gmeiner, a freshman at Monmouth, attended the mini-medical school as a high school student at Central Regional High School in Bayville, New Jersey. Now a biology major, Gmeiner hopes to go to medical school and become a dermatologist after earning her diploma.
"The stories that the guest doctors told about what they do on a daily basis to help their patients stuck with me the most because I want to be able to make a difference in someone's life just like them," Gmeiner said.
According to Dunphy, who is also the director of pre-health advising, students in the program were exposed to careers in pediatric endocrinology, neurosurgery, physical therapy, physician assistant, nursing, athletic training, speech-language pathology and social work.
"We want to help them be excited about their future, and I think co-directing a program like mini medical school does that," Dunphy added.
Participating students were also introduced to Monmouth's graduate programs in a hands-on lab experience, which focused on programs such as physician assistant, nursing, social work, speech-language pathology and athletic training. University faculty donated their time to teaching, and students learned how to do a pulse oximetry (a noninvasive test to measure oxygen levels of the blood), test shoulder instability, and conduct a postural assessment, among other activities.
"The Mini-Medical School influenced my decision to come to Monmouth because it allowed me to see all the resources that the school has to offer," Gmeiner added.
Monmouth University has hosted the Mini-Medical School since 2017. The program has been in existence since 2013, with more than 500 students attending and more than 300 graduating. Students must commit to all six sessions to obtain a graduation certificate.