Jonathan Meer, vice president for University Advancement, and Dean Donald Moliver, Ph.D., CRE, MAI, CTA, announced the appointment of David Howell as the director of development for the Leon Hess Business School, effective Aug. 20, 2018.
Prior to his appointment at Monmouth University, Howell served as a major gift officer at the nationally-renowned Choate Rosemary Hall preparatory school in Connecticut for nearly 24 years.  During his time at Choate, Howell played an important role in the successful conclusion of two comprehensive campaigns.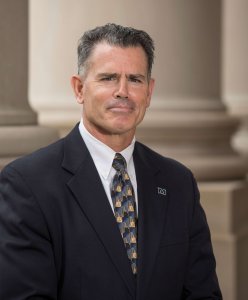 "Dave brings an extraordinary level of fundraising experience with him through his tenure at University of Pennsylvania and, for the past 24 years, Choate Rosemary Hall. He also has strong ties to the Jersey Shore and we are thrilled that he's decided to bring his professional talents and many personal attributes to the University," said Meer.
Howell is responsible for supporting Dean Moliver and the departments and centers of the AACSB Accredited Leon Hess Business School, including the Kislak Real Estate Institute, the Monmouth University Center for Entrepreneurship, and key annual events including the Distinguished Business Leaders Dinner. As the lead development officer for the business school, he also manages the engagement and recruitment of the Dean's Advisory Council members and serves as a liaison to members of the Business Council.
"Dave's experience is a perfect fit with the alumni and friends of the Leon Hess Business School," Moliver said. "Our graduates have been very successful, and we now have a highly qualified person who is dedicated to engaging them directly," he added.
"I am very grateful for the opportunity to join the Monmouth University community and return to the Jersey Shore; my wife, Lou-Ann, and I both share roots in Red Bank. I look forward to working with Dean Moliver and the faculty and staff to advance the mission of the Leon Hess Business School," Howell said.
Before his tenure at Choate, Howell worked in both major gifts and annual giving roles at the University of Pennsylvania, a private Ivy League research university where he also earned a master's degree in Liberal Arts.
An alumnus of Red Bank Catholic High School, Howell earned his bachelor's degree in economics from Middlebury College. Howell worked as a licensed securities professional after Middlebury for almost a decade before joining the University of Pennsylvania.
His formative financial advisory experience includes individual stocks and bonds, commodities, bank trust service sales, and municipal bond analysis at Merrill Lynch, CoreStates/Philadelphia National Bank, and Standard & Poor's Corporation.