Urban Coast Institute (UCI) Associate Director Tom Herrington shared his experience working with community members to find solutions for chronic nuisance flooding in Ocean City, New Jersey, at the American Geophysical Union's (AGU) Fall Meeting. Held Dec. 10-14 in Washington, DC, the event assembled thousands of researchers dedicated to physical sciences spanning from the bottom of the oceans to deep space.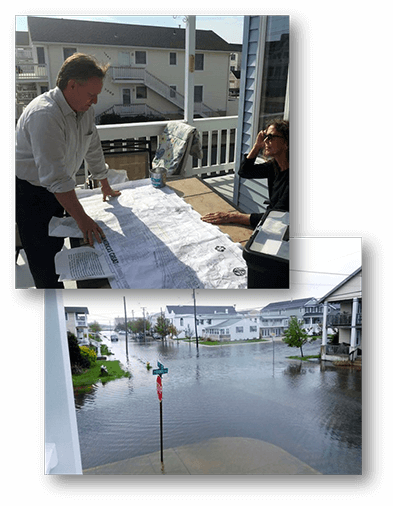 Herrington's Ocean City work is being carried out through the AGU's Thriving Earth Exchange (TEX) program, which pairs scientists with local communities to solve problems on a pro bono basis. An Ocean City native, Herrington has volunteered his time to the effort in his capacity as both a UCI staff member and New Jersey Sea Grant Consortium coastal community resilience specialist.
The barrier island community has seen flooding increase in frequency and severity over the years, to a point where high tides can cause disruptions and damage without rain. Herrington worked with members of a grassroots community flooding group to examine the source and causes of the flooding and identify long-term solutions that would remain effective in the face of sea level rise and the more intense storms wrought by climate change.
Through the partnership, Herrington has trained local residents to conduct citizen science work that will help build a better understanding of the issues. The community activists have begun discussions with city and state officials about implementing some of their ideas.
"Our work together has empowered them to use science to answer their own questions," Herrington said. "I also found that building a better comfort level with the science has helped them become much better communicators when they've needed to approach the mayors and town councils to discuss the issues."
Herrington also facilitated a panel at the conference focused on community engagement around scientific issues. It featured seven speakers from around the country plus another eight affiliated poster sessions in the conference hall.