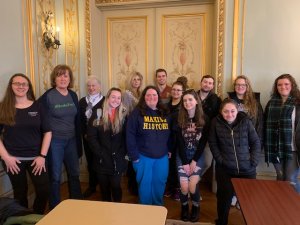 On March 12, 2019, Courtney Werner, Ph.D., assistant professor of English, teamed up with Gilly Scott, coordinator of Service Learning at the University, to provide a transformational experience for English majors enrolled in a Language and Community course.
Scott arranged for three nonprofit community partners—Bridge for Books, Aslan Youth Ministries, and Lunch Break—to give a panel presentation to the class. By the end of the day, each organization was partnered with at least two students from the class to complete a 3-5-7 service project.
The 3-5-7 service project, co-designed by Scott and Werner, calls for students in the Language and Community course to work with a partner organization for three hours of volunteering, five hours of job shadowing, and seven hours spent working on a deliverable product for the partner organization.
After completing the 3-5-7 project, students will write an analytic paper reflecting on their experiences and later present their experiences and analysis in a PechaKucha presentation (a presentation style in which 20 slides are shown for 20 seconds each) which will be open to other students in the department.
Werner said she hopes the project will benefit the partners and the students: partners will have much needed volunteers, exposure, and final products that help raise awareness and funds for their organizations, and students will learn about the different ways they can apply their English degrees in their lives after Monmouth—all while bolstering their resumes with impressive experiences.