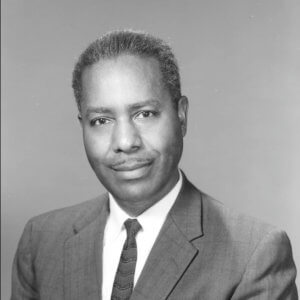 Monmouth University has established the Dr. Walter S. McAfee '85HN Endowed Scholarship in Science with initial gifts and pledges of more than $25,000. McAfee was a distinguished African American mathematical physicist who taught atomic and nuclear physics and solid-state electronics at Monmouth College from 1958 to 1975. He was widely known for his groundbreaking work on "Project Diana," which bounced an electronic echo from the moon's surface back to an antenna at the Evans Signal Laboratory in Wall Township, N.J. in 1946. His theoretical calculations determined the feasibility of this original radar "moon bounce," an achievement that many now regard as the beginning of the Space Age.
Steven Bachrach, Ph.D., dean of the School of Science, and Walter Greason, Ph.D., chair of the Department of Educational Counseling and Leadership, crafted the scholarship with the aim of supporting economically disadvantaged students to attend Monmouth University in pursuit of a STEM education, while also celebrating a distinguished faculty member who broke racial and scientific boundaries. With the goal of raising additional funds, the university also aspires to name a portion of the Edison Science building in honor of McAfee.
"This scholarship honors Dr. McAfee's memory by providing opportunities for developing the next generation of diverse scientists right here in New Jersey, where his world-changing discoveries took place," according to Bachrach.
The scholarship will be available to full-time undergraduate students pursing a bachelor's degree in the sciences or science education in the School of Science or the Honors School. According to Karen Keene, director of Development for the School of Science, "Dr. McAfee was a pioneer. He, like many others, was not celebrated in his time for making tremendous contributions to his scientific field, and in turn, society. We hope this scholarship paves the way for new generations of students, from diverse backgrounds, to follow in his footsteps."
Greason stated, "The McAfee scholarship opens the door so that more first-generation and working students can benefit from the exceptional opportunities that the School of Science, Honors School, and the School of Education provide. It gives students a chance to follow in Dr. McAfee's impressive footsteps."
McAfee was born on September 2, 1914 in Ore City, Texas. He earned his Bachelor of Science in mathematics from Wiley College, a historically black college in Marshall, Texas. In an era when even programs stemming from the New Deal of the 1930s were racially segregated and blacks and whites rarely worked alongside each other, McAfee completed his Master of Science in theoretical physics at Ohio State University in 1937. He was one of the very few African Americans earning advanced degrees in physics at the time.
As part of the war effort, McAfee joined the Electronics Research Command section of the U.S. Army Signal Corps at Fort Monmouth. McAfee was awarded a Rosenwald Fellowship to pursue his doctoral work at Cornell University, where he completed his Ph.D. under the supervision of Dr. Hans Bethe, a future Nobel Laureate, in nuclear physics.
McAfee then returned to the laboratory at Fort Monmouth, where he worked for 42 years, retiring in 1985. He contributed to the areas of wave propagation, passive sensing, target acquisition, and battlefield surveillance. McAfee was one of the first people to be awarded the Secretary of the Army Research and Study Fellowship. This allowed him to work with colleagues at Harvard University that led to the discovery that high altitude nuclear explosions can cause communication blackouts.
Among his awards are an honorary D.Sc. from Monmouth College in 1985 and the Stevens Institute of Technology Stevens Award in 1985. He was the first African American U.S. Army employee to be promoted to GS-16, the so-called "super grade" status. He was posthumously honored by Fort Monmouth with the naming of their McAfee Center housing the Information and Intelligence Warfare Electronic Directorate.
McAfee passed away in 1995 in New Jersey.
"Dr. McAfee was a paragon of scientific excellence who was also much like Jackie Robinson on our campus. During an era when few African American faculty had opportunities at predominantly white institutions like Monmouth University, his work blazed a trail that created the possibility of a diverse and inclusive community here in West Long Branch. Over 15 years, he created innovative, inspirational classroom experiences that led to the University recognizing him with an honorary degree in 1985. He exemplifies a longstanding tradition of successful professionals becoming impactful educators who create paradigm shifts in the global marketplace of ideas," Greason said.
For more information, visit monmouth.edu/university-advancement/mcafee.