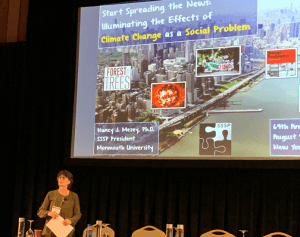 Nancy Mezey, Ph.D., dean of the Honors School at Monmouth University, delivered the presidential address to the Society for the Study of Social Problems (SSSP) at its 69th annual meeting in New York City last month.
Mezey served as president (2018-19) of SSSP, which is a national, interdisciplinary organization made up of social science and social justice scholars, advocates, practitioners and students dedicated to researching, teaching and addressing significant social problems.
In her talk, Mezey underscored the importance of understanding the social world in terms of the relationships that exist between and among people. Those relationships, according to Mezey, create the very essence of what is social in our lives.
"If we want to solve social problems, we need to understand, explain, and address what is 'social' about those problems," said Mezey.
Mezey called on the audience to focus on what she said was perhaps the biggest social problem facing society: climate change.
Noting the social, economic, political, and cultural factors that contribute to pressures on the environment—economic growth, production/consumption, waste, energy use, land use and natural resources, as well as urbanization and suburbanization—Mezey explained that climate change is rife with inequalities.
"The causes of climate change, which are driven by wealthy nations' and people's overconsumption, is a key source of unsustainable levels of greenhouse gas emissions," said Mezey. "Climate change is driven largely by wealthy nations. But the impacts of climate change are unequally felt by the poor, an inequality that will continue to grow with future generations."
Mezey encouraged listeners to look beyond technical fixes and consider the social, political, and economic structures that condition human behavior and resource exploitation.
"Developing more efficient and less polluting technologies without also altering institutions and social structures may prove to be ineffective," said Mezey. "Technology may not be sufficient to substantially reduce greenhouse gas emissions if political and economic and cultural systems continue to prevent technological fixes from having their intended effects."
Observing that sociologists are well positioned to help explain climate change as a social problem and thus stem the causes of climate change, Mezey concluded her address with a call to action.
"I am asking that we shift our center once again to examine social problems through a climate change lens," said Mezey. "You will find that some of the major issues facing society today—immigration, poverty, families, work—are all connected and shaped in some way by climate change."
For more information about SSSP, visit www.sssp1.org.