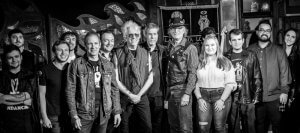 Blue Hawk Records, Monmouth University's student-run record label, hosted a "Hall of Fame Jam" event at Langosta Lounge in Asbury Park, New Jersey on Jan. 17 in support of the annual Light of Day WinterFest.  The festival, now in its 19th year and the premier fundraising event for Light of Day Foundation, showcased over 150 music acts at 30 venues over 10 days (Jan. 11-21, 2019) to raise money and awareness for the battle against Parkinson's and related diseases.
The Blue Hawk Records event featured performances by Rock & Roll Hall of Fame musicians Ricky Byrd, guitarist for Joan Jett and the Blackhearts, and Vini "Maddog" Lopez, drummer for the E Street Band.  The Hall of Famers were backed by Monmouth University acts such as Dan Amato and the Sentimental Gentlemen, Malibu, and Antonio Gonzalez.   Named one of the Asbury Park Press' "Can't Miss Shows," nearly 20 Monmouth University students and alumni contributed to the jam session, with many more University students, parents, alumni, and faculty in attendance.
Zack Sandler, a junior music industry major who was the musical director and producer of the show, said that his experience in the classroom at Monmouth helped make the show a huge success.  "We had to incorporate all of our classroom lessons into making this show happen—the booking techniques from Professor Donio's class; the artist management roles from Professor Cruz's class; the chart writing from Professor Wurzbach's class; and the overall team management from Professor Rapolla's class," said Sandler.  "I owe a huge thank you to Monmouth University for giving me the opportunity to turn my rock-and-roll dreams into a reality."
Joe Rapolla, chair of the Music and Theater Arts Department and faculty advisor to Blue Hawk Records, said that these real-world opportunities are not only memorable, but also valuable as students pursue their careers and life after Monmouth.  "Through events like this, students learn how they can give back to their communities, better manage their careers as artists, and work in all aspects of the broadening business of music and entertainment media."
"The best part is watching the students experience it all coming together," added Rapolla. "Seeing them connect the dots of how hard work can yield such great outcomes is extremely rewarding."
Light of Day WinterFest raised over a half million dollars in 2018, bringing its 18-year cumulative total past the $5 million mark.  The 2019 festival is expected to push the total past $5.5 million for the fight against Parkinson's and similar neuro-degenerative diseases.