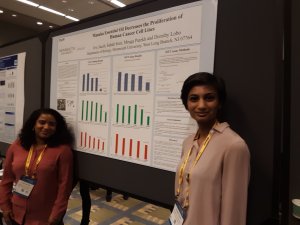 Jive Jacob, a senior biology major from Morganville, New Jersey, and Subah Soni, a junior biology major from Manahawkin, New Jersey, presented their research on the effects of manuka essential oil on the viability of cancer cells at the American Society for Cell Biology (ASCB) annual meeting in Washington, D.C. in December.
Jacob won an undergraduate travel award to attend the meeting, which was a competitive award based on the abstract of the research submitted, a resume, and recommendation letters from research advisors, according to Dorothy Lobo, Ph.D., chair of the Department of Biology. The travel award, which was sponsored by the ASCB, was open to undergraduates doing research in cell biology.
Both students began their research during the 2018 School of Science Summer Research Program under the supervision of Lobo, and continued their work through this academic year.
"I'm really proud of our research and it's one of the best experiences I've ever had at Monmouth," Soni said. "We have been working hard on this project for almost two years now and I have enjoyed every step of the process. I love sharing our findings, and being able to present our work at a big convention like the ASCB conference was incredible."
The research project was an extension of work being conducted in the laboratory of James Mack, Ed.D., professor of biology, who had been examining the anti-bacterial properties of several essential oils.
Manuka essential oil is found in a variety of skincare products, and has known anti-inflammatory properties, but the effects of this oil on specific cancer cells has not been made clear. Jacob and Soni's work shows that manuka oil decreases the proliferation and viability of two different cancer cell lines (HT-1080 fibrosarcoma cells and HeLa cervical adenocarcinoma cells) and normal fibroblast cells.
Jacob and Soni are continuing to conduct research to better understand the biochemical mechanisms for this response in these cell lines. Following graduation from Monmouth, both Jacob and Soni aspire to continue their education in either graduate or professional school.
"Although right now we're testing different concentrations of essential oils and how cancer cell lines react to them, the end goal of this project is to eventually use this information to make a more 'natural' cancer therapy, and I think that's really cool that I could be a part of it—especially as an undergrad," said Jacob.