Monmouth University senior biology majors Dharm Patel (South Plainfield, NJ) and Bryan Martin (Haverford, PA) were each awarded first place for best research poster presentation at the 44th Annual Conference of the Metropolitan Association of College and University Biologists (MACUB) held October 29 at Seton Hall University, South Orange, NJ. Of the 120 posters presented at the conference, Dharm's work was selected as the best poster presented in the four-year-student category in Microbiology and Immunology, and Bryan's work was selected as the best poster presented in the four-year-student category in Biochemistry, Biophysics, and Biotechnology.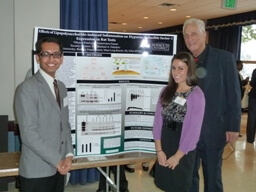 From left, MU student Dharm Patel, MU student Genevieve Fasano, and MACUB President Dr. Gary Sarinsky
Dharm's poster, titled "Effects of Lipopolysaccharide-induced Inflammation on Hypoxia-inducible factor-1 Expression in the Rat Testis," described his research conducted with Dr. Michael Palladino, dean of the School of Science at Monmouth. Dharm's research is designed to investigate how bacterial infections of the male reproductive tract affect genes and proteins produced by reproductive organs to cause infection and inflammation. Sophomore biology major and honors student Genevieve Fasano was also involved in this research project and the MACUB poster presentation. Dharm is an honors student, doing this research with Dr. Palladino as his honors thesis project. Dharm's participation in the MU Summer Research Program was made possible by a grant from Bristol-Myers Squibb.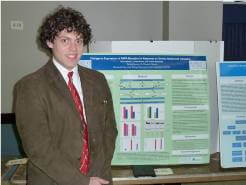 Bryan Martin
Bryan's poster, titled "Changes in Expression of AMPA Receptors in Response to Chronic Alcohol and Tianeptine," described his research conducted with Dr. Dennis Rhoads, professor of biology at Monmouth. Bryan is a student in the honors school and a double major in biology and chemistry/biochemistry. He is doing his honors thesis research in the biology department under the direction of Dr. Rhoads and is working on turning his thesis into a manuscript that will be submitted to a journal for publication. Two other students worked with Bryan on his project but were unable to attend the MACUB meeting; they were Carlos Rivera and Victoria Schroeter, both at Monmouth University for the summer as part of the Summer Research Program. Last summer Bryan was supported in the MU Summer Research Program by a gift from Elusys Therapeutics.