by BGS-MU Officers
On Tuesday, May 18, the Leon Hess Business School inducted 34 undergraduate and graduate students into Beta Gamma Sigma (BGS), the international honor society that recognizes the academic achievement of business students. The Leon Hess Business School's chapter of Beta Gamma Sigma has been active since 2000. The top 10% of sophomore, junior, and senior students, as well as the top 20% of MBA students, were invited to be a part of this honor society. Sixty-one (61) business students joined BGS during the academic year 2017-2018. An invitation to join Beta Gamma Sigma is the highest honor business students can receive from AACSB-accredited schools.
The induction ceremony was held at Hollywood Golf Club in Deal, New Jersey. Dean Donald Moliver gave the opening remarks. Dr. Eugene Simko, Associate Professor of Management and Decision Sciences, was the official host for the evening presenting students for their induction. Associate Dean Gilda Agacer presented the cords, pins, and certificates to the inductees. One hundred fifty (150) individuals including Grey J. Dimenna, Esq., President of Monmouth University, students, parents, faculty, administrators, business executives, and guests attended the ceremony.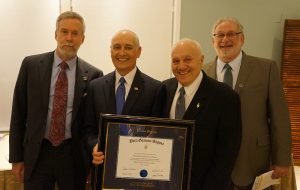 John DiNapoli, Brigadier General (USA Retired) President of Spencer Ryan LLC gave the principal remarks. John has over 30 years of leadership experience that spans both the military and civilian sectors. Throughout his career, he has commanded units of various sizes including companies, battalions, and brigades. John continues to serve part-time as a Brigadier General (BG) in the NJ Army National Guard as the Assistant Adjutant General. His civilian experience is centered on healthcare, with 25 years in positions of increased responsibility to include Sales Representative, Manager, Account Director and Vice President for Pharmaceutical and Medical Supply companies. These companies include GlaxoSmithKline (GSK), Marion Merrill Dow, SmithKline Beecham, MEDecision, Blistech and Medical Action Industries. John is also an Adjunct Professor at Rutgers University in New Jersey.
Monmouth University Beta Gamma Sigma Chapter Officers
Dr. Barrie Bailey, President
Assistant Dean Janeth Merkle, Vice President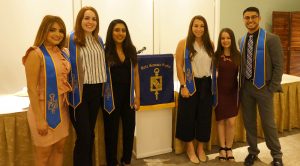 Beta Gamma Sigma Student Chapter Officers
Brenna Sermarini, President
Joseph Firetto, Vice President
Celeste Leon, Membership & Alumni Affairs
Pooja Shah, Treasurer
Brianna Roberts, Marketing & Public Relations
Laura Gorman, Secretary
Department of Accounting Inductees
Katarena Brannick
Joseph Breen
Katarzyna Bzdyra
Brianna Cicerelle
Megan Corbet
Mark DeBartolo
Keyla Rufolo
Abigayle Smith
Alyssa Taylor
Danielle Yannacci
Department of Economics, Finance, and Real Estate Inductees
Frank Anastasio
James Cleveland
Zachary Johnson
Benjamin Joskowski
David Letcher
McKenna Mallory
Jeremy Waters
Department of Management and Decision Sciences Inductees
Caroline Cerwinski
Kelsey Mackay
Alexa Skibiak
Department of Marketing and International Business Inductees
Brittany Bevilacqua
Heather Bradley
Kelly Cannizzaro
Riley Hollandsworth
Julia Hoover
Carolynne Kelly
Gianni Mazzone
Jaquelyn Rubinos
Brianna Timpone
MBA Program Inductees
Karla Cusano
Kathryn Gibbons
Lena Sharesky
Alexandra Tierney
Samantha Swallwood
For more information about Beta Gamma Sigma Monmouth University Chapter, you may contact Dr. Barrie Bailey (bbailey@monmouth.edu) or
Assistant Dean Janeth Merkle (jmerkle@monmouth.edu).