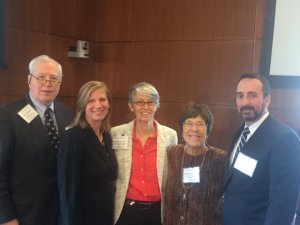 Belinda Anderson, Ph.D., M.A. Ed., director of the Institute for Health and Wellness, presented at a National Academies of Sciences, Engineering, and Medicine workshop entitled The Role of Nonpharmacological Approaches to Pain Management.  The workshop, which took place Dec. 4-5, 2018 in Washington, D.C., was held in response to the current pain epidemic and opioid crisis in the U.S.  It also followed up on the 2017 national academies' report "Pain Management and the Opioid Epidemic," which examined the evidence for nonpharmacological therapies (interventions that do not involve medications) in managing chronic pain.
Anderson spoke about the siloed nature of healthcare and the challenge it presents to integrative pain management. Utilizing her background and experience in interprofessional education (IPE), which brings different health professionals together to learn how to effectively collaborate to improve patient health, she spoke about several topics including:
Different IPE educational approaches (didactic and clinical immersion).
Challenges associated with differences in thought patterns, theories, and research methods between healthcare disciplines.
Disseminating information about professional training, qualifications and certification to facilitate patient referral.
Difficulties for patients navigating the varied approaches.
"To facilitate the national push towards the use of nonpharmacological therapies for pain management, a focus must be placed on health professionals' education and training and addressing policy barriers," said Anderson. "Interprofessional education and tackling challenges in reimbursement for some nonpharmacological therapies are especially important."
Anderson also spoke about issues of healthcare practitioner burnout and the need to model self-care, practitioner research literary skills and the ability to apply evidence to clinical practice, as well as the need to train practitioners in the importance and power of compassion. Lastly, she addressed the role of big data, telemedicine, and artificial intelligence in creating better solutions for pain management and improving patient care.
Mounting evidence of the effectiveness of nonpharmacological therapies for pain resulted in The Joint Commission (TJC), the largest hospital accreditation organization in the U.S., revising its pain mandate. Effective January 2018, TJC now requires its accredited hospitals and facilities to provide nonpharmacological therapies for pain as a scorable element of performance. Likewise, the American College of Physicians Clinical Practice Guidelines recommend nonpharmacological approaches as the first line of therapy for acute and chronic back pain.
Additional Links
The Role of Nonpharmacological Approaches to Pain Management: A Workshop
Evidence-Based Nonpharmacologic Strategies for Comprehensive Pain Care