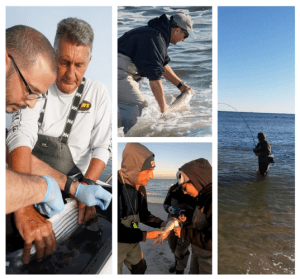 The Jersey Coast Anglers Association (JCAA) recently announced that John Tiedemann, assistant dean in the School of Science and director of its Marine and Environmental Biology and Policy Program, was selected to receive the 2019 Sportsperson of the Year Award for his outstanding contributions to conservation and management of marine recreational fisheries.
Among the many recreational fisheries projects Tiedemann has conducted during his career, in 2011, he initiated "Stripers for the Future," an angler-based research and education campaign in collaboration with the recreational angling community.  The goal of the campaign is to develop and disseminate scientific information on local striped bass populations that allow anglers to contribute to the conversation and long-term sustainability of the striped bass fishery.
Tiedemann holds a B.S. in physics and planetary science from Upsala College and an M.S. in oceanography from the Florida Institute of Technology. He has been professionally employed in the marine environmental field since 1979. At Monmouth, he regularly teaches courses on environmental biology and policy as well as coastal zone management.
JCAA is a nonprofit consortium of over 75 saltwater fishing clubs founded in 1981. The nonprofit works with state legislators, state and national organizations, and various federal and state agencies to advance fisheries conservation and education, and to protect the marine environment for future generations.