Dr. Jodry Presents on the Joy of Service for TEDxAsburyPark
Dr. Joanne Jodry, Ed.D., D.M.H., Assistant Professor of Professional Counseling and the Clinical Mental Health Counseling Program Director, presented her talk on "Educational Transformation: Finding Your Meaning through Service to Others" during a TEDxAsburyPark salon on Tuesday, December 1, 2020.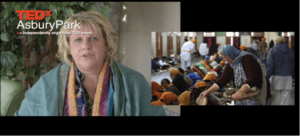 Dr. Jodry shared her passion for service during an intimate discussion of her first meeting with Courtney Deacon Lalotra, the founder of One Life to Love, a nonprofit organization and orphanage that provides education, nutrition, and health care to migrant children with mental and physical disabilities in New Delhi, India. A mutual friend introduced Dr. Jodry to Ms. Deacon Lalotra shortly after Dr. Jodry received a cancer diagnosis in 2015 that she says created "a new identity" for her, leaving her "more fearful." Ms. Deacon Lalotra's selfless and courageous devotion to offering basic necessities, love, and care to children of the greatest need inspired Dr. Jodry to find meaning and healing in service.
With a renewed sense of purpose, Dr. Jodry developed a faculty-led program for the students in her graduate program to embark on an annual service trip through northern India, including to One Life to Love. The students serve food at the Golden Temple, provide care to children, and, in Dr. Jodry's words, learn to "answer the call of suffering," as they expand upon their training for therapy and counseling and engage in spiritual growth. Monmouth students will participate in the program for the third time this summer.
Dr. Jodry refers to service as "the cure" for our own suffering and encourages her students and audience to "live in action."
Dr. Jodry's presentation from the TEDxAsburyPark salon is available to view on YouTube.
"Be inspired by people who show meaning in their lives…. Really look at the suffering of other people… and ask yourself, 'Why can't I help?'" — Dr. Joanne Jodry, Ed.D., D.M.H., Assistant Professor of Professional Counseling and Clinical Mental Health Counseling Program Director