Exceptional Hawks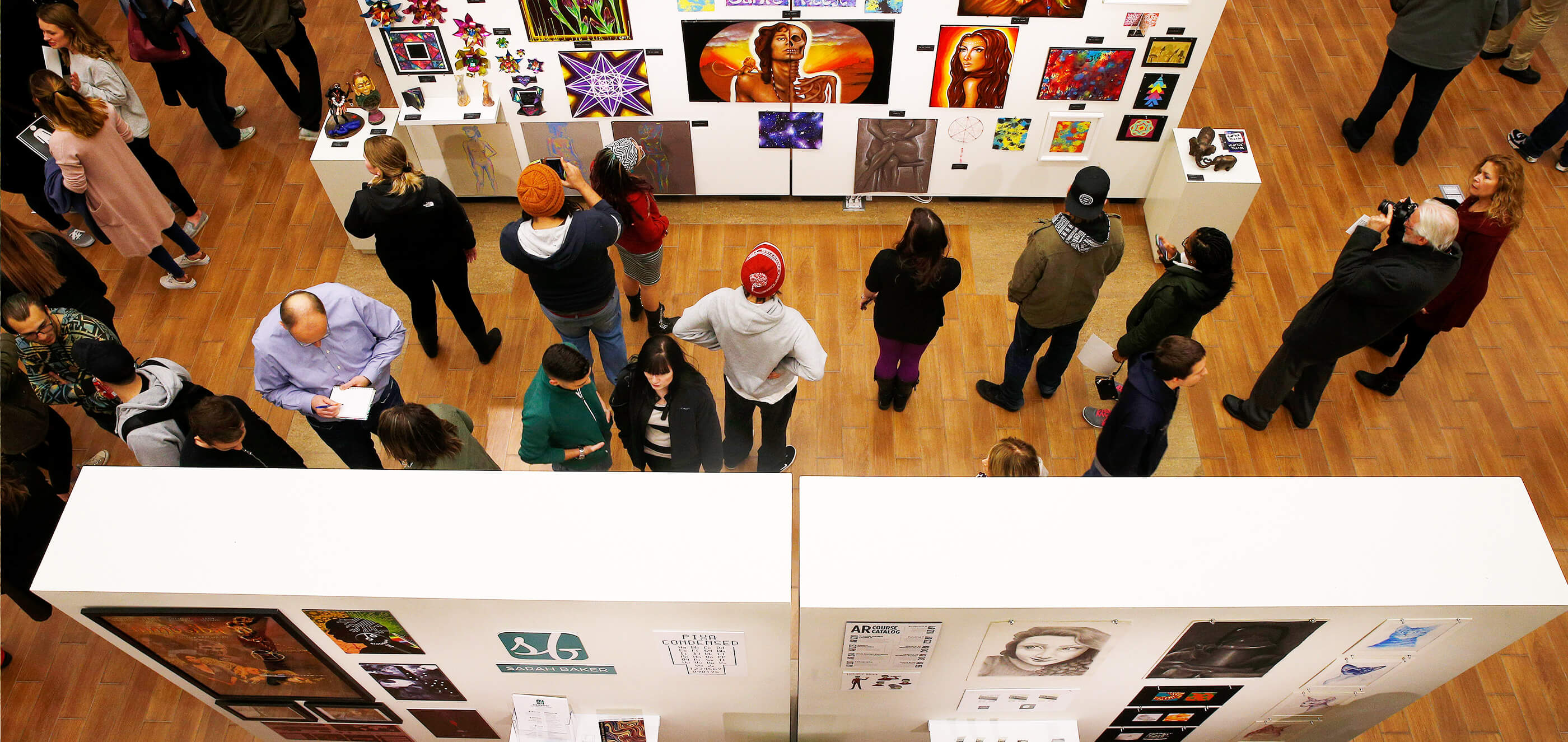 Experiencing the Arts at Monmouth University
Explore the opportunities to experience the written, visual, and performing arts in every area of campus.
Experiencing the Arts Up Close and Personal
"Hands-on" and "exhilarating" were the words that class of 2014 English graduate Ariana Tepedino used to describe her immersive experience with the arts at Monmouth University. Her most outstanding experience: Tepedino and a classmate were chosen to introduce the award-winning poet, essayist, and U.S. armed-forces veteran Brian Turner as part of the Visiting Writers Series.
Students like Tepedino benefit not only from hearing the writers speak, but also interacting with them personally in seminars, interviewing them for on-campus media outlets, and introducing the writer to a large audience of peers, faculty, and community members. Recent visitors have included Joyce Carol Oates, Colm Tobin, three United States poet laureates—Robert Pinsky, Natasha Trethewey, and Louise Gluck—and Cuban-American inaugural poet, Richard Blanco.
Tepedino and her classmate worked together to explore Turner's writing and to understand the critical academic reviews discussing his work. She said Associate Dean of the School of Humanities and Social Sciences Michael Thomas gave her the confidence to face a large audience of Turner fans and share with them their appreciation of, and insights into, his writings.
"It was nerve-wracking but also rewarding," said Tepedino, who is completing her master's degree in English at Monmouth while working as a public relations brand manager. "Where else do you get to do something like that as an undergraduate?"
Associate Dean Thomas, who serves as the director of the Visiting Writers Series, said the series provides a vital link between writers and the public. "It provides an arena in which writers and the audience feel more alive, less lonely, and where emotions from joy to suffering can be collectively aired," he said. "And by hearing these thoughts and feelings revealed, we are given the opportunity to learn how to better inhabit our world."
Thomas added that, "by far, the largest impact of the Visiting Writers Series on students is in the small, craft workshops and discussions that students get to have with national and internationally recognized creative writers."
Tepedino agreed. She said throughout her time at Monmouth, she sought out the Visiting Writers Series as a way to be deeply involved in cultural activities that resonate with her interests. As a writer herself, she found that the variety of writers that come to campus is inspiring and helps students focus on their own goals. "It has been eye-opening to be one-on-one with writers whose work and success I admire and also to be in a small group with writers who got me out of my comfort zone."
As Tepedino learned, the arts at Monmouth are not a sideline experience for passive bystanders. In the performing arts, Monmouth offers pop-up shows, bands to join, musicals and plays to act and sing in, and world-class performers to meet with in small seminars before these artists perform to sold-out audiences.
Additionally, students with an interest in the written word can publish original stories, poems, and critiques in the quarterly Monmouth Review, and can find expression in the exuberance of a one-of-a-kind performance art group that features poetry slams and other interactive expressions.
The visual and fine arts also thrive at Monmouth on the walls of multiple galleries, through meet-and-greets with national and international artists, and in the annual shows that draw acclaim and attention to original work by students and faculty.
These platforms are supported throughout the Monmouth curriculum. Students wishing to embrace the arts academically find thoughtful and involved faculty dedicated to turning dreams into reality and passions into careers.
According to Vaune Peck, associate director of the Center for the Arts, students work with this center in a variety of functions that have led alumni to jobs in the entertainment industry. She said that she has students working in all areas of the production of live performance such as artist relations, stage management, ticket sales, selling artists' merchandise before and after shows, working with stage managers and crews, dressing room set-up, and more, from small stages to larger arenas.
"All of these work experiences are relevant to finding employment in the arts after our students leave Monmouth," Peck said. "They get to work with experts and take that expertise into the job market." She added that students who have worked with the Center for the Arts have found employment as box office managers for live music giant AEG, in broadcast entertainment news, as stage managers, and more.
Liz Rimassa, who currently works in ticket management for AEG after earning her bachelor's in business administration with a concentration in accounting in 2012 and her MBA in 2014, said, "Working for the Center for the Arts at Pollak Theatre was a rewarding experience. It was a great chance to interact with many talented people and to build lasting relationships with the performers and tour managers that I worked with."
For students interested in the fine arts, Chair of the Department of Art and Design Andrew Cohen explained that the department as a whole is "committed to providing our students the best possible education."
"In recent years we have enhanced our digital emphasis. Ranging from animation, to graphic design, to photography, to 3D printing and other directions, students receive a thorough education in both digital and traditional skills," he said.
Graphic design major Olivia Greco '14, who is working as a graphic designer and a marketing assistant, said it was the interest shown to her by the faculty that was critical in her progress from student to professional.
"Monmouth's faculty had a genuine interest in my future and in how I developed as an artist and a human being," Greco said. "My professors kept my classes current by focusing on changing trends in design, technology, and workplace practices. They were also wonderful mentors, especially when it came to connecting me with internships and jobs opportunities."
Life outside of the classroom is also active and dynamic with the arts at the core of many student groups, such as Artists for Change, a forum for the exchange of ideas about the world of art and a vehicle for student artists to utilize their abilities. There is also the performance-driven CommWorks, which was established for all students who enjoy and are committed to performance as a means to transform, educate, entertain, and empower both performers and audiences. Boom Roasted Productions, a wholly student-run theatre group, has staged new works by emerging artists and recently presented a production of the musical Rent.
A number of partnerships with local and international theater companies provide access to new works, classic theater, and Broadway productions. Students may purchase discounted tickets to Red Bank's Two River Theatre throughout the year; view a slate of various productions, from the Metropolitan Opera to Britain's National Theatre, available on campus in HD; and take trips to Broadway that are affordable, engaging, uplifting, and just fun.
Testimonials, Videos, and Extras
Vaune Peck
Degree Program:
BA '87
MA Liberal Arts '10
Class of
1987
Artist, Director of Monmouth University Center for the Arts, Named 2013 Monmouth County Arts Council "Community Champion of the Arts"
---
"When I first came to Monmouth University to embrace my dream of being an artist, I was a 29-year-old widow with a three-year-old child. I was immediately swept up in an environment that totally understood and nurtured my artistic ambitions. For the very FIRST time in my life I was in a place where it was absolutely okay to be who I really was. I can't begin to describe what that felt like. It was the most pivotal experience of my life, it changed me forever, and put me on a trajectory that lead me to blossom as an artist and to become the director of the Center for the Arts."
Vaune Peck: Hand-crafted Alabaster
Students Perform at Bruce Springsteen Symposium and Other Events on Campus
Performing at these symposia "helps you become a better musician." – Connor Healey '15
Taylor Bernosky
Degree Program:
BS Mathematics
Class of
2016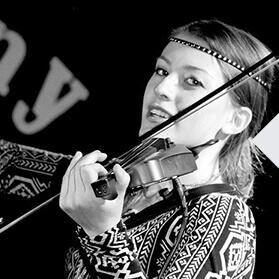 Honors School peer mentoring, Phi Eta Sigma Honor Society, School of Science peer mentoring, Residence Hall Association
---
"I have been playing the violin since I was five years old. It has become a very important part of my life—I have opened up for national acts such as Tim McGraw and Lady Antebellum, performed for Bruce Springsteen, and played on many stages throughout the country. In addition to my love for performing, I have also always had a passion for math. Upon entering college, I knew that I wanted to be able to do both math and music. Here at Monmouth University, I can pursue both of these passions. This was one of the biggest deciding factors for me when choosing colleges to attend."
Student-Run Theatre Group – Boom Roasted Productions

Boom Roasted Productions performed "Seasons of Love" from Rent in the Great Hall
Students Have Rare Opportunity Work at Professional Equity Theater "Shadow Lawn Stage" on Campus

Shadow Lawn gives students a unique opportunity to work side-by-side with Equity actors, learn the details of professional production (both backstage and onstage), and earn points toward Equity membership. "As an actor, it is really exciting to learn more about the tech side of theater, which will give me additional skills in my job search for a career in the theatre," said Mahalia Jackson '16. "This is literally preparing me for my career as I want to go into theatrical costuming and design," said Bethany Hintze '18.
Students Learning from Professional Musicians, Dancers, and Conductors

Marc Muller performed "Hippy Jazz" at Woods Theatre.
Catherine Baggs' dance company "Aries In Flight" performed Ailey Studio Theatre as part of Kat Wildish's Performing in NY Spotlight Series.
Bob Boyd (drums) performed at Tim McLoone's Supper Club in Asbury Park for a benefit concert for the Monmouth County Food Bank and Jazz in the Park in Red Bank.
David Tripold directed the 2015 All Shore Chorus
George Wurzbach performed at the University of Maryland with his folk music trio, Modern Man, and with folk legends Peter Yarrow and Noel Paul Stookey (of Peter, Paul, & Mary), Chad Mitchell, and Tom Paxton at a tribute concert for Dick Cerri.
Joe Rapolla performed at the Songwriters by the Sea concert
Explore more
Exceptional Hawks