Celebrated Author Erik Larson To Speak at Monmouth University
Celebrated author Erik Larson will speak at Monmouth University on Monday, March 28, 2016, from 7 – 8:30 p.m. in Pollak Theatre. This event is free and open to the public.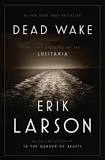 Erik Larson has written five books that have appeared on the New York Times' bestseller list, including such critically acclaimed works as In the Garden of Beasts: Love, Terror, and an American Family in Hitler's Berlin and The Devil in the White City. Mr. Larson's most recent book is Dead Wake: The Last Crossing of the Lusitania, which deals with the implications of the sinking of the Lusitania by German torpedoes in May 1915 and will be the subject of his talk.
This event is the inaugural lecture in the Department of History and Anthropology's Charles Mayes World War I Lecture Series.
Mr. Larson's talk at Monmouth University will be his first public appearance since the release of Dead Wake in paperback. His books will be on sale before and after his talk, and Mr. Larson will be available to sign books after his talk.
You can read more about Mr. Larson and his body of work at: eriklarsonbooks.com
For more information about this event, please contact Ken Campbell at campbell@monmouth.edu or Melissa Ziobro at mziobro@monmouth.edu with any questions.