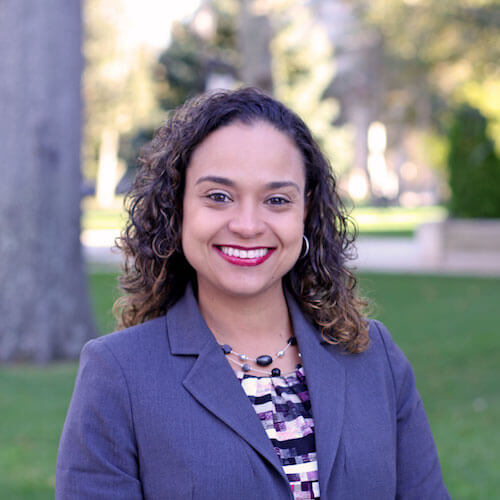 Nicole Pulliam, Ph.D.
Assistant Professor
Educational Counseling
---
Department

Office

McAllan Hall 103

Phone

Email
Nicole Pulliam, Ph.D.
Dr. Pulliam teaches courses in student affairs, college counseling and other core courses within the program. She brings over 10 years of experience as a student affairs practitioner, within the areas of career counseling, advising within Educational Opportunity Programs, greek life/student activities and financial aid. Her research interests include college student development, 1st generation college students, career development, secondary to post-secondary partnerships, and diversity & social justice initiatives. She has presented on such topics at national, regional and local professional conferences. In addition, she has co-authored a textbook chapter on the counseling and mental health needs of gay youth and boys. Dr. Pulliam currently serves as the President for the New Jersey Career Development Association and as Communications Co-Chair for the North Atlantic Region for Counselor Education and Supervision. She has been recognized within the profession, earning the 2013-2014 ACES Presidential Fellow award and the 2010-2011 NARACES Emerging Leader fellowship. She is also a member of ACA, ACES, NCDA and NASPA.
Education
Ph.D Counselor Education, Montclair State University
M.A., Counseling Concentration: Student Affairs, Montclair State University
B.A., Psychology, Ramapo College of New Jersey
Publications
Scholarly Articles
Paone, T. R., Malott, K.M., Pulliam, N., & Shannon, J. (2019). Experiences of counselor students of color in the classroom: A qualitative study. Journal for Race, Ethnicity, & Education. doi: 10.1080/13613324.2019.1579186
Pulliam, N., & Bartek, S. (2018). College and career readiness in elementary school. International Electronic Journal of Elementary Education 10(3) 355-360. Doi10.26822/lejee.2018336193
Havlik, S., Pulliam, N., Malott, K., & Steen, S. (2017). Strengths and struggles: First-generation college-goers persisting at one predominantly white institution. Journal of College Student Retention: Research, Theory & Practice . 1521025117724551.
Pulliam, N., Ieva, K. P., & Burlew, L. (2017). The relationship between perceived career barriers and career decision self-efficacy on initial career choice among low-income, first generation, pre-freshman, college-bound students . Journal of College Access , 3(2), 78 - 97.
Paone, T.R., Malott, K.M., Pulliam, N., & Gao, J. (2017). Use of photovoice in processing race-based training. Journal of Creativity in Mental Health. doi: 10.1080/15401383.2017.1294517.
Pulliam, N., Ieva, K.P., & Burlew, L.B. (2017). Career decision-making self-efficacy and certainty of career choice of low-income students. Journal of College Access: 3(2), Article 7.
Dispenza, F., & Pulliam, N. (2017). Midlife LGBTQ Adults: Career Development. In Roland, C. B., & Burlew, L. D. (Eds.). Counseling LGBTQ adults throughout the life span. Retrieved from http://www.counseling.org/knowledge-center/lgbtq-resources
Pulliam, N., & Gonzalez, C.E. (2017). Experiences at the convergence: Understanding the intersectionality of college student identities. In Frederick, M., Sasso, P.A., & Maldonado, J.M. (Ed.). The dynamic student development meta-theory: A new model for student success. Peter Lang Publishing: New York, NY.
Burlew, L. D., Pulliam, N., & Grant, K.L. (2014). The mental health and counseling needs of gay men, adolescents, and boys. In M. Kocet (Ed.), Counseling gay men, adolescents, & boys: A strengths based guide for helping professionals and educators. New York, NY: Routledge.
Professional Associations
American Counseling Association (ACA)
Association for Counselor Education & Supervision (ACES)
National Career Development Association (NCDA)
New Jersey Career Development Association (NJCDA)
North Atlantic Region for Counselor Education & Supervision (NARACES)
National Association of Student Personnel & Administrators (NASPA)
Awards
Association for Counselor Education & Supervision (ACES) Presidential Fellow 2013-2014
North Atlantic Region for Counselor Education & Supervision (NARACES) Emerging Leader Fellowship (2010-2011)
Courses
Frequently Taught Classes